Various forms of intermittent fasting exist to suit your lifestyle and schedule. 24-hour intermittent fasting is one such method, and it is a very strict one. It is achieved by refraining from eating for 24 hours. For example, if you eat at 7 p.m., you would only eat after 7 p.m. the next day. While this type of intensive intermittent fasting has many potential health benefits, it also requires a demanding commitment. So, before you fully commit, let's see what you need to know about it and how to do a 24-hour fast.
Intermittent fasting for 24 hours is effective in weight loss. Instead of losing weight over a shorter fasting period, the 24-hour fast targets body fat and reduces it more efficiently. Nutritionists recommend only doing it twice a week. Though, more of it may help you lose weight faster. It also increases your chances of experiencing its adverse effects. Always consult with your doctor prior to starting any kind of fasting regimen.
What Is 24-Hour Intermittent Fasting?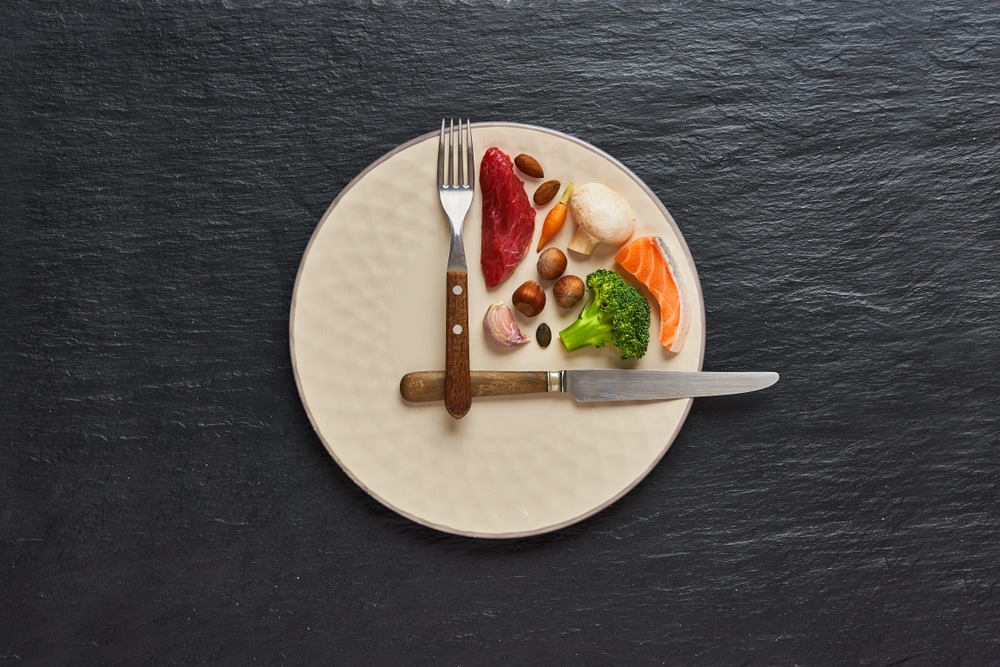 24-hour intermittent fasting is a type of fasting in which you go without eating for 24 hours. Its schedule distinguishes it from time-restricted fasting as well. While the schedule for time-restricted fasting is continuous, the schedule for the 24-hour fast is at one's set time or leisure, such as once a month, weekly, or biweekly. It's also known as the eat-stop-eat approach.
What Happens To The Body During A 24-Hour Fast?
In the first eight hours of starting a fast, your body will continue to digest and utilize the energy from your last food intake. Also, it will continue to use stored glucose as if you will be eating again soon.
After eight hours without eating, your body transitions into fasting mode due to low blood sugar levels. In the fasting mode, the body initiates gluconeogenesis and glycogenolysis.
Gluconeogenesis is the process in which the body generates glucose from non-carbohydrate sources. Glycogenolysis is how the body creates glucose from the breakdown of glycogen.
Throughout the fast, your body will continue to use stored fat to generate energy. After 24 hours, the body starts to convert stored proteins into energy.
24-Hour Intermittent Fasting Benefits
The following are some of the advantages of 24-hour intermittent fasting.
Weight Loss
This will be particularly evidence in overweight and obese patients
A Boost To The Immune System
This occurs by suppressing the activity of inflammatory mediators and oxidants. Improving the body's immunity lowers the likelihood of cancerous cells forming and reduces the risk factors for neurological and other chronic diseases.
Lowering Risk Of Cardiovascular And Endocrine Disease
These include hypertension and diabetes. When done regularly, 24-hour intermittent fasting helps the body regulate blood pressure, increase high-density lipoprotein, and lower plasma triglycerides. It also enhances the optimal functioning of the neurohormonal system. For example, it improves glucose consumption by increasing insulin sensitivity while decreasing resistance.
Additional Benefits
24-hour intermittent fasting lowers the risk of neurodegenerative diseases. It also helps with physical fitness and agility.
How To Engage In 24-Hour Intermittent Fasting
Preparing ahead of time is the best way to participate in a 24-hour fast. One of the best ways to ensure your readiness is to plan your fast. Before beginning the 24-hour fast, you should decide what meal you will eat.
Suppose you want to fast from dinner to dinner, for example. Begin fasting after your last meal and continue until supper the next day. If breakfast is more important to you, start your fast immediately after eating it, and break it the following morning.
You should also choose a fasting window that allows you to complete your daily activities while also being comfortable. Adjust your fasting window to ensure you fast as your schedule and activities change. Also, always stay hydrated during the fast.
Foods To Eat After 24-Hour Intermittent Fasting
To get the most out of your fast, avoid binging when you break it. Eat light, easily digestible foods high in vitamins and minerals. Soups and smoothies are two such examples. Overall, your diet should be high in whole grains, fruits, vegetables, and proteins after a 24-hour fast.
In addition, avoid sugary foods, alcohol, and processed foods. Also, avoid eating high-carbohydrate or high-protein foods when breaking your fast. Slowly reintroduce carbohydrates and protein-rich foods into your diet.
24-Hour Intermittent Fasting Side Effects
A 24-hour intermittent fast is difficult. Headaches, extreme hunger, dehydration, malnutrition, irritability, fatigue, and insomnia are common. In addition, 24-hour intermittent fasting can cause digestive problems. Typical symptoms include diarrhea, nausea, vomiting, and constipation. To avoid causing these digestive disturbances, avoid trying new foods when breaking your fast. Also, staying hydrated while fasting helps to reduce these side effects.
These side effects usually fade as you fast more frequently. Fasting frequently helps your body adjust to the new meal schedule.
Who Should Not Engage In A 24-Hour Intermittent Fasting
Only a few people can engage in a 24-hour intermittent fast. People who should not fast for 24 hours include the following.
Pregnant Or Breastfeeding Women
Fasting during pregnancy may cause blood sugar levels to drop to low levels. It may also cause pregnant women to have preterm births or underweight babies. Breastfeeding mothers may experience fatigue and dehydration, making them unable to breastfeed their children.
Individuals With A History Of Eating Disorders
Clinical guidelines do not recommend a 24-hour fast for people with a history of eating disorders because it can reintroduce or worsen their dangerous eating habits.
Children, Teenagers, And The Elderly
Children, teenagers, and the elderly should not fast for 24 hours due to dietary needs. The elderly are more likely to have low blood sugar levels, become tired, and have their health deteriorate.
Diabetes Patients
A 24-hour fast increases the likelihood that diabetics' blood sugar will drop dangerously low, resulting in diabetic ketoacidosis and other complications.
Patients Taking Medications That Require Them To Eat Before Administration
A 24-hour fast will defeat the purpose of those individuals taking such medicines. It will make them unable to meet their treatment goals. Consequently, their health will deteriorate.
Immune Deficiency Patients
A 24-hour fast may further weaken their immune system, making them unable to recover from their illnesses.
People Who Have Experienced A Traumatic Brain Injury Or Post-Concussive Syndrome
Prolonged and extreme fasting in post-traumatic patients and those with a concussion is more likely to exacerbate their mental health than to improve it.
In Conclusion: 24-Hour Intermittent Fasting
24-hour intermittent fasting is an extreme form of fasting. You will find it difficult at the beginning. However, with consistent practice, it will become second nature. Always choose a time and day(s) that will allow you to participate comfortably in the long run. A single fast will not provide the optimum benefits.
Do not look for quick ways to lose weight, though. Maintaining a healthy lifestyle is more important. Always consult with your doctor prior to starting a fast.
So, are you looking to get into 24-hour intermittent fasting? Or are you looking out for a family member or friend? Let us know your situation in the comments below!