Intermittent fasting has become a trendy lifestyle. But, did you know that some food, drinks, and supplements can break your fast without realizing it? So you might wonder what the best food to break an intermittent fast is.
The best food to eat when you break a fast is easy to digest and high in nutrients such as vegetable soups, salads, and smoothies.
What is fasting?
Fasting is going a short or long period without food, sometimes without liquids, for spiritual, medical, ethical, or ceremonial reasons. The encyclopedia Britannica adds that fasting has been practiced worldwide by many groups of people for centuries.
Why do people fast?
Let's go into a little more detail on the reasons for fasting. They are:
Medical: Doctors might suggest fasting for medical reasons such as weight loss or pre-surgery.
Spiritual: Religious and cultural leaders promote fasting for religious reasons, like Ramadan, where millions of people only eat after sundown.
Ethical: Individuals or groups use fasting to protest for an important cause.
As fasting has gained popularity in the last decade, you might have encountered other types of fasting, like intermittent fasting, in the health and wellness community.
What is intermittent fasting?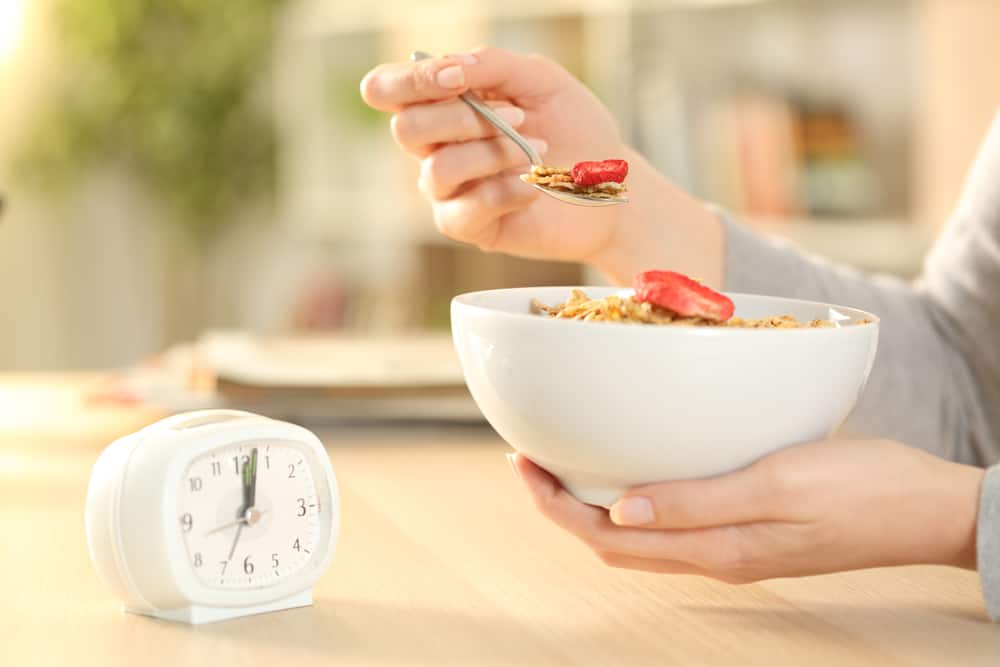 Intermittent fasting is like flipping the switch off and on with a pattern of eating and going without food.
Other than fasting for the reasons above, people may go without food for shorter or extended periods, called an "eating window" or "time-restricted feeding." The most popular is an 8-hour window. However, some people might fast for 24 hours or even 3 days. 
We all intermittently fast, such as when we sleep, but the timing might differ for you. However, your choice to fast is based on your personal goals and schedule. For example, if you work shifts, have a busy day with meetings, etc., you might benefit from intermittent fasting.
For instance, 16/8 intermittent fasting, a standard "eating window," means you don't eat for 16 hours and only eat during an 8-hour window. This might be having dinner at 7 pm and not eating again until the next day at 11 am.
Intermittent fasting is a popular method to combat obesity and improve cardiovascular disease since it restricts the time that you are eating. Naturally, intermittent fasting helps you reduce the amount of calories you're consuming when you have a short window to eat. Some people find this easier than following a diet.
Multiple studies have shown increased health benefits with fasting for metabolic health and weight loss.
Breaking a fast? What does that mean?
Traditionally our first meal of the day is breakfast or "break-a-fast." It's the mid-15th century word meaning to start eating after a long period without food (like after sleeping). You might not feel like eating traditional "breakfast" foods when you eat.
Breaking a fast (like breakfast) just means the time you start eating after you haven't eaten for a while. An excellent example is waking up in the morning after sleeping and having breakfast. That doesn't mean you'll want to have your first meal after your fast right away, but naturally, some people will have more hunger than others when they're about to break a fast.
What food and drink can you eat while fasting?
My first reaction would be to say nothing. If you're fasting, you're not consuming calories from food or drinks, but some liquids might not be a problem.
Here are some liquids you can consume during a fast:
Water
Coffee
Tea
Non-caloric beverages
On the other hand, caloric drinks like soda, alcohol, milk, and plant milk products aren't recommended and could break your fast.
Supplements and fasting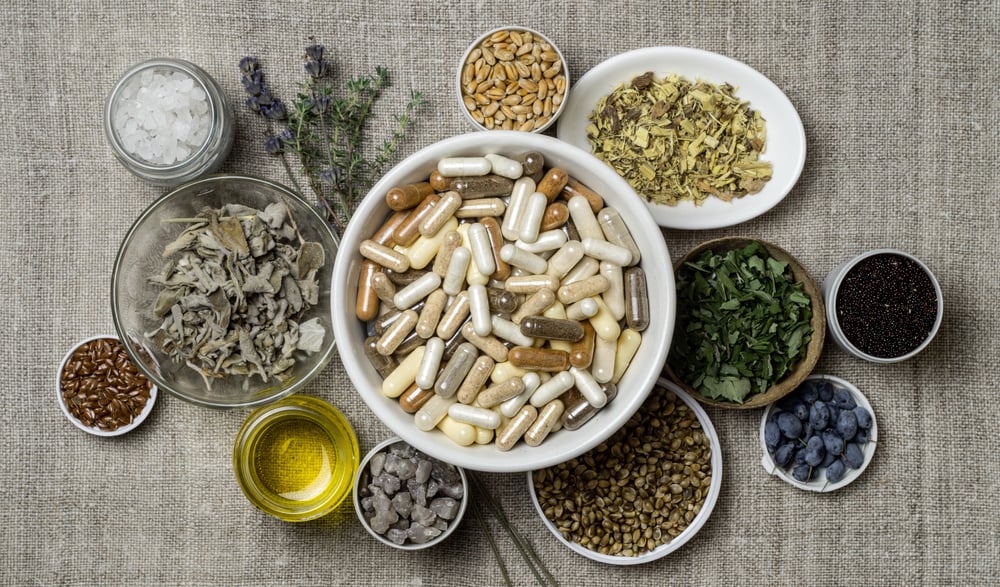 When I first started the practice of intermittent fasting, I never considered how taking supplements might break my fast. Usually, I take supplements with food, but unfortunately, some can affect your attempt at fasting. Generally speaking, any supplement that has calories can break a fast, especially those that have sugar.
Another point to consider is that some vitamins are best taken without food, like B and C vitamins. In contrast, others like A, D, E, and K vitamins need to be consumed with food.
Here are some supplements that might disrupt an intermittent fast:
Protein powders have a caloric value that can trigger blood sugar to spike.
BCAAs (Branched-Chain Amino Acids): This supplement can break a fast because it contains some calories. Although it's beneficial for weight training to build muscle, technically it can affect your attempt at fasting.
Those that contain sugar derivatives: Gummy vitamins or supplements that contain natural or artificial sugars.
Best food to break an intermittent fast healthily
You can consume many foods after a fast, but the ones I recommend should be easy to digest and contain many nutrients.
When you fast, your body breaks down carbohydrates called glycogen in your muscles/liver. Your body uses glycogen for energy. After a long time without food, it can also break down fat for energy.
So, priming your body with the right food will make it easier to break a fast. Start with gentle food.
List of foods to break an intermittent fast
Bone broth – Think chicken soup – the real kind made straight from the bone – like grandma used to make! Bone broth has many fantastic properties, including essential vitamins and minerals to restore nutrients.
Cooked vegetables – Cooked food is already partially broken down for you, so it's easier to digest, especially after intermittent fasting. Fruit and vegetables contain fiber, which helps improve digestion and slow blood sugar from rising too fast.
Soup – You can also add easily digestible ingredients with protein to soup, like lentils, cooked vegetables, and potatoes.
Smoothies – Consuming blended fruit smoothies or adding other ingredients with healthy fats such as avocado is a good option after an intermittent fast. Blending increases how easily food is digested and maintains its fiber content. Juicing on the other hand contains minimal fiber and mostly the sugar from fruit, which isn't great to have after a fast. Choose blending whole fruit over juicing.
Lean meat and fish – Chicken is packed with nutrients like B6 and minerals, whereas fish, another good option, has healthy fats like omega-3s. Both should be okay to digest too.
Many dried fruits, especially dates, are packed with essential nutrients, vitamins, minerals, and carbohydrates that some cultures use to break a fast because they help stabilize blood sugar. Minerals are especially important to have after a fast to replenish what you have missed from food.
Fermented food – yogurt and kefir contain active ingredients that are friendly to gut bacteria and protein.
Worst foods to break a fast
Choosing the best food to break an intermittent fast is especially important because when you're hungry, it's easy to select the first thing you see. Literally, you have a "hungry brain" because it's wired to search out the most calorie-dense food.
In this way, it's important to be mindful of food choices when breaking a fast. For example, avoid eating processed food such as baked goods with sugar, refined white flour, and seed oils.
Avoid food like:
Cookies
Cakes
Soda
Fast-food
Ready-made meals
Chips
There are other groups of foods that you should avoid, too, those that contain lectins and raw cruciferous vegetables. Lectins are a protein in plants, grains, and beans that can be hard to digest if not appropriately cooked. In addition, cruciferous vegetables can cause gas.
Some examples of the above are:
Lectin-containing foods: grains, beans, wheat, nightshade vegetables such as eggplant, peppers and tomato, peanuts, and cashews.
Cruciferous vegetables include cabbage, broccoli, cauliflower, and Brussel sprouts.
How to break an intermittent fast
In his book, The Hungry Brain, Dr. Stephen Guyenet says, "If your brain thinks you're starving, it will eventually wear you down, no matter how strong your resolve. The solution is to give it the necessary cues to realize you aren't starving."
The same principle follows when looking for the best food to break an intermittent fast. To give your brain the "cues it needs," start with food that is:
lower calorie
higher protein
higher fiber
good tasting but from natural foods
This will help you avoid telling your brain you can eat whatever you want. So, be mindful!
Humans function on a reward-based system, so after a hard workout or eating healthfully for some time; you might think you deserve a "reward." However, beware of this line of thinking, especially after fasting.
Eating foods in their natural state doesn't have the same rewarding effect as processed food. But, of course, not everyone finds the same food rewarding.
The bottom line to breaking any fast is to eat the least processed food possible. Focus on food in its natural state, preferably cooked, so it's easier to digest.
Conclusion
When choosing the best food to break an intermittent fast, you can easily plan ahead what your first meal will be. Remember that you want to avoid food that will raise your blood sugar too quickly, so stick to protein, vegetables, and fruit that are well cooked!
So, what food are you going to use to break your fast? Let us know which one and why in the comments below!