At first glance, intermittent fasting can feel overwhelming. There are many choices to keep track of, and it's well known that eating before your designated window each day will disrupt any benefits of fasting. But what can you drink during intermittent fasting?
During intermittent fasting, you can drink low-calorie liquids like black coffee, flavored and plain water, or unsweetened tea. High-sugar and high-calorie drinks will break your fast.
A Quick Overview of Intermittent Fasting
Intermittent fasting is a dietary plan that has catapulted into the health spotlight. It is based on a simple principle: by only consuming calories during a short, specific time frame, your body enters a fasted state and is forced to find new sources of energy.
After breaking down sugar stores in your liver, your body gets creative. It ramps up a process called lipolysis, breaking down your fat cells into energy and increasing fat metabolism. Intermittent fasting can aid weight management and disease prevention, especially fat loss.
The ultimate goal is to transition your body into a state of ketosis. At this stage, your body uses fat — broken down into ketones — as its main fuel source. Ketosis can provide a cornucopia of benefits. Studies suggest ketosis may optimize brain function and neuroplasticity, improve glycemic control and protect heart muscles from inflammation, and help lower blood pressure while intermittent fasting.
It is important to note that fasts longer than 24 hours have not been shown to increase health benefits. They can actually be very dangerous when not supervised by a medical professional. Your body might even begin to store more fat in reaction to starvation.
Before starting intermittent fasting, be sure to take stock of your mental well-being. Dieting of any kind can lead to obsessive thoughts about food or overeating during non-fasting windows, so anyone with a history of eating disorders or obsessive behavior should proceed with caution.
What Can You Drink During Intermittent Fasting?
There are quite a few things you can drink during intermittent fasting. Let's start with plain and carbonated water.
Plain and Carbonated Water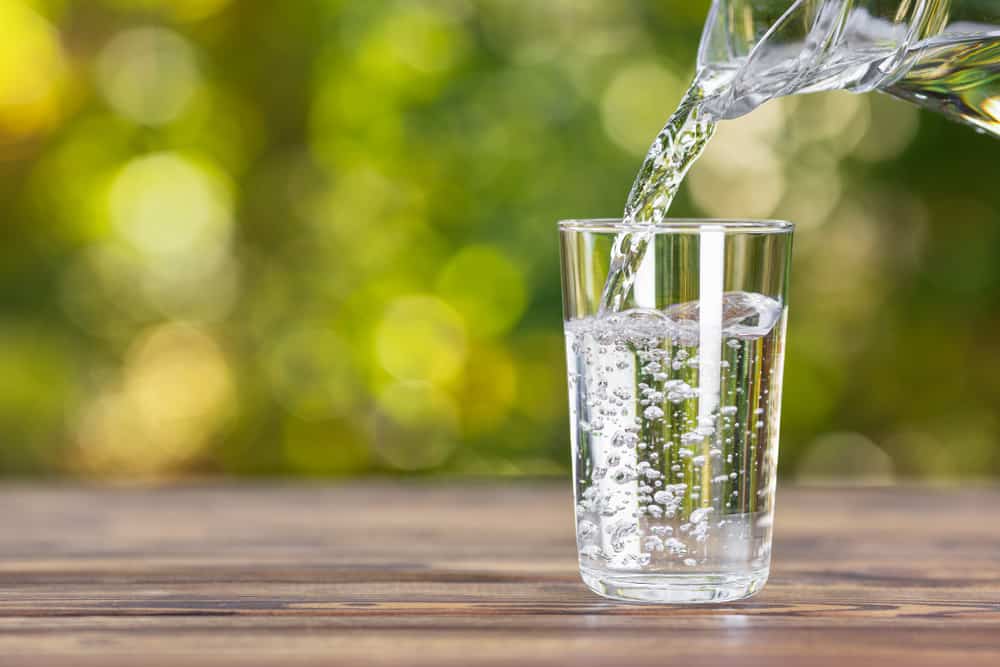 Hydration is key, especially during fasting! Water doesn't affect blood sugar and insulin levels, so it is perfectly safe (and encouraged!) to drink during your fast. Good water intake can help you feel less hungry, decrease the risk of metabolic dysfunction, and even improve your mood and sleep quality.
Sparkling water is simply plain water carbonated with CO2 gas, sometimes with a sprinkle of salt. It still contains zero calories, and the added sodium can help supply electrolytes and keep your cells happy.
Does Mineral Water Have Extra Benefits?
Electrolytes are charged particles involved in many of your body's essential processes. During intermittent fasting, your body flushes out water and electrolytes as it metabolizes sugar stored in your muscles. This makes it especially important to stay hydrated while fasting.
Mineral water has the added benefit of containing trace natural minerals that help replenish your body's electrolytes. Sodium, potassium, magnesium, and calcium are some of the key electrolytes your body needs to run smoothly. Mineral water is one of the best choices to hydrate your body while fasting.
What About Flavored Water or Tonic Water?
Many of us like to put some lemon, cucumber, or fruit into our water for flavor. This naturally flavored water is A-okay while fasting! But there are a few guidelines to keep in mind.
Choose low-sugar fruits like lemons, limes, or berries. Toss them directly into your water to infuse it with flavor and trace amounts of nutrients. Avoid squeezing juice directly into your water; it's a more concentrated dose of sugar and calories.
Steer clear of flavorings with artificial sweetening or high sugar, as their sweetness can still trigger an insulin response. When sugar enters your bloodstream, the pancreas secretes insulin to help glucose disperse to the cells that need it. Fasting helps keep insulin levels low, prompting your fat cells to release stored fat for the body to use as energy instead of sugar. Many "health drinks", such as vitaminwater, are loaded with hidden sugar, so read labels carefully.
Tonic water often contains added sugar and provides no additional benefits over plain water, so it is best to avoid it while fasting.
What About Coconut Water?
While coconut water is rich in vitamins and electrolytes, its naturally high-carbohydrate content can easily break your fast. Introducing carbs and sugars to your body will trigger an insulin response, shut down fatty acid breakdown, and halt lipolysis.
If you are feeling lightheaded or dehydrated while fasting, supplementing with coconut water is a good way to replenish missing nutrients. But for anyone following a strict fasting regimen, coconut water might do more harm than good.
Coffee
Black coffee is a great choice when you need a pick-me-up during your fast. One cup of black coffee has fewer than five calories and zero fat, and its caffeine can help burn fat by increasing your metabolic rate. Caffeine even acts as an appetite suppressant for some people, a handy bonus for intermittent fasters.
Coffee also contains a variety of nutrients, including B vitamins, potassium, and magnesium. Studies suggest it may lower your risk of certain health problems like type II diabetes, Parkinson's disease, depression, heart disease, and some cancers.
However, it is important to consume caffeine in moderation. High intake may increase your risk of coronary heart disease, stroke, insomnia, and other health issues. Black coffee can be hard on an empty stomach, so consuming slow-digesting fatty foods during your eating window may help your coffee go down with greater ease.
The most important thing: avoid cream and sugar like the plague. They will add calories and macronutrients to your coffee and quickly break your fast.
Tea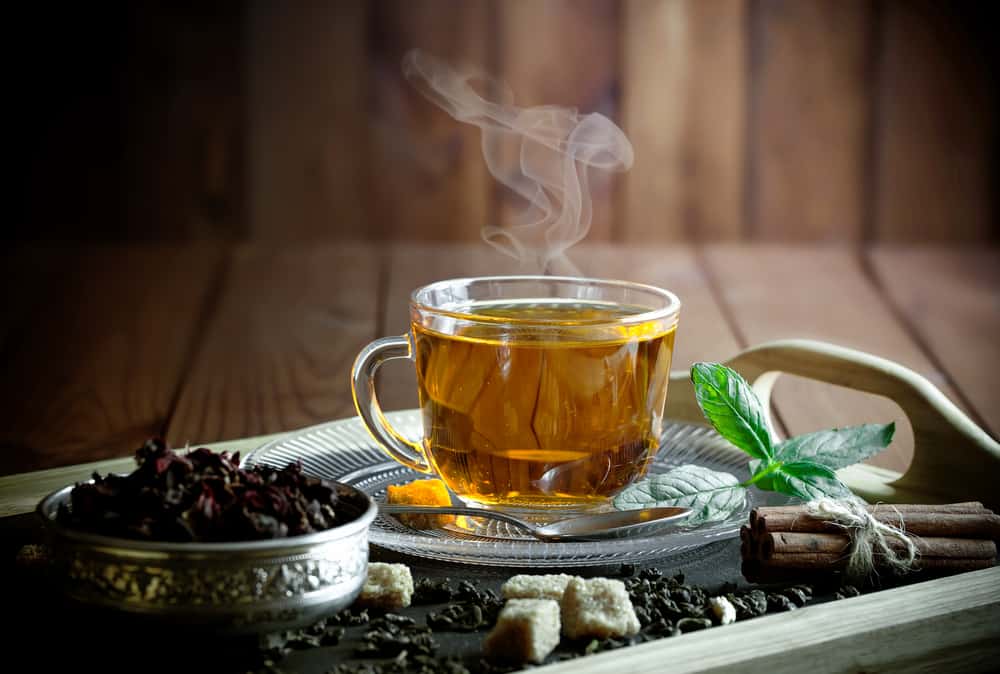 If coffee isn't your jam, perhaps a cup of tea can help add flavor to your fast. Green, black, white, oolong, and pu-erh teas are excellent hydration choices. If you are sensitive to stimulants, choosing a low-caffeine tea can provide energy without coffee's forcefulness.
Teas help maintain a healthy gut and increase feelings of fullness. Some are even anti-inflammatory, neuroprotective, and may reduce the likelihood of certain diseases. Green tea is especially rich in beneficial polyphenols and antioxidants.
Just like with coffee, make sure your tea is free from sweeteners or cream. Avoid herbal teas when possible; they often contain dried fruit, and the extra sugar could break your fast. Overall, this is a good drink to have during intermittent fasting.
Apple Cider Vinegar: Pros and Cons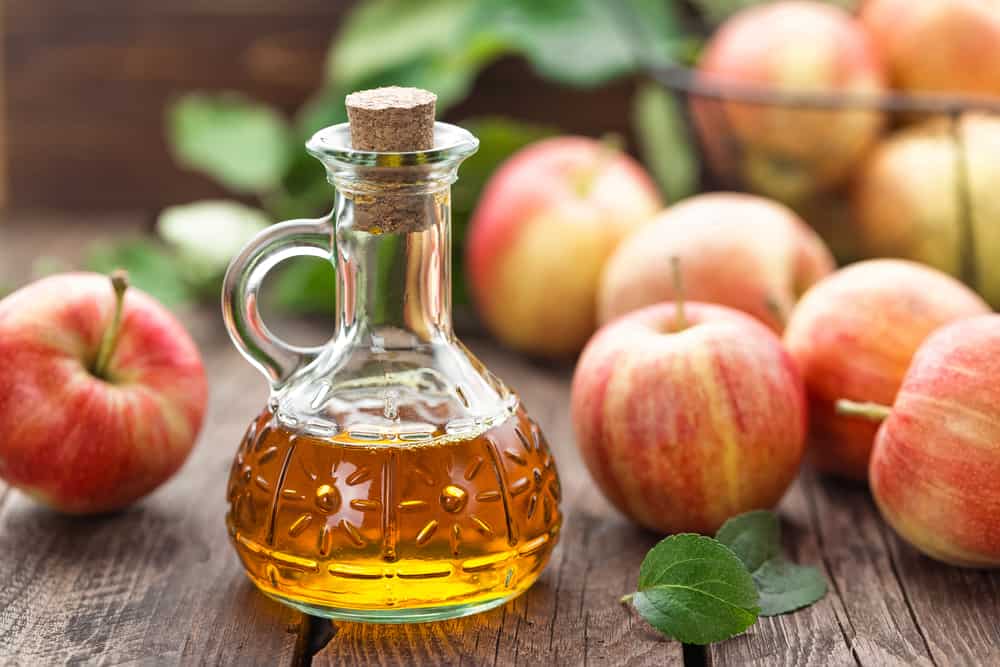 Apple cider vinegar (ACV) has risen to health-food stardom in the past decade. Many people swear by its beneficial effects, but will it help you during intermittent fasting?
Drinking diluted ACV can help stabilize blood sugar, improve digestion, and potentially reduce high cholesterol. Some studies have also found anti-oxidant and anti-inflammatory properties. However, though there are many claims of ACV boosting fat-burning metabolism, there is currently no conclusive evidence to back these claims.
You should always water down ACV before drinking. A straight shot of ACV can damage tooth enamel, irritate your esophagus, and cause indigestion. It is also not recommended to drink ACV on an empty stomach, diluted or not. So, while ACV has negligible calories and is unlikely to break your fast, you may want to wait until your eating window to drink some. Your stomach will thank you.
Drinks To Avoid While Intermittent Fasting
Unfortunately, there are some things you can't drink during intermittent fasting. We'll start with diet soda.
Diet Soda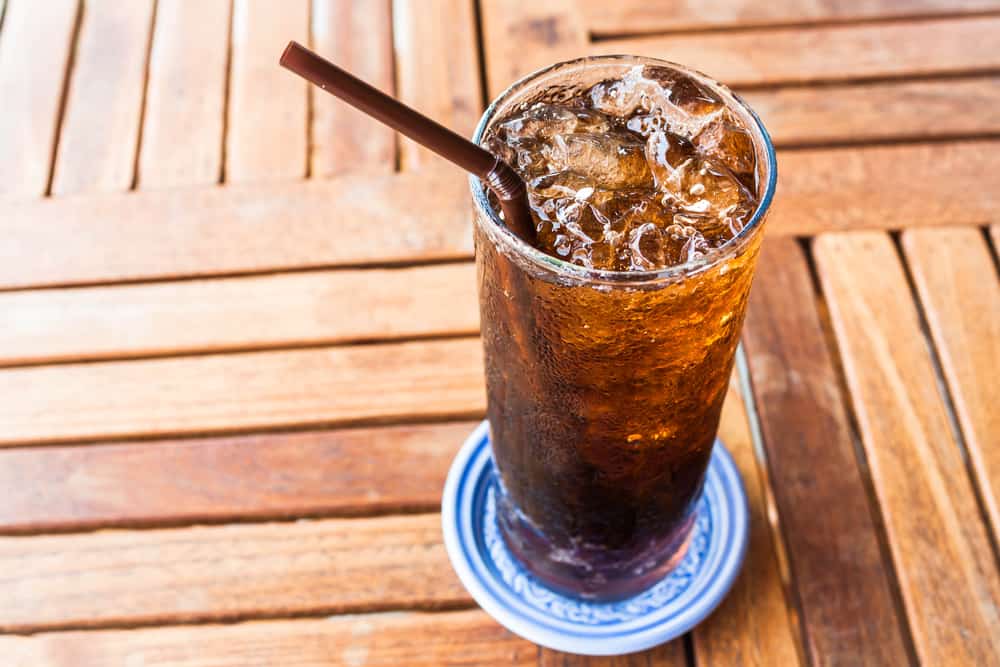 Diet soda labels proudly display their zero-calorie, zero-sugar nutrition facts. Seems perfect for intermittent fasting, right? But the taste of these sodas can still activate sweet-taste receptors in the gut, causing an insulin spike.
Diet drinks rely on artificial sweeteners—such as saccharin, aspartame, and sucralose—to provide a sugary taste without the usual calories. Unfortunately, current research is revealing that this bargain may be too good to be true.
Studies suggest that regularly consuming artificial sweeteners may increase your risk of stroke, coronary heart disease, and dementia. It can also harm your gut microbiome and induce insulin resistance. For some people, artificially sweetened drinks can worsen hunger and sugar cravings, making it harder to stick to intermittent fasting.
Stevia-sweetened drinks may be the safest option among artificial sweeteners, but overall, it is best to avoid a potential insulin spike and stick to naturally flavored water to curb cravings.
Sports Drinks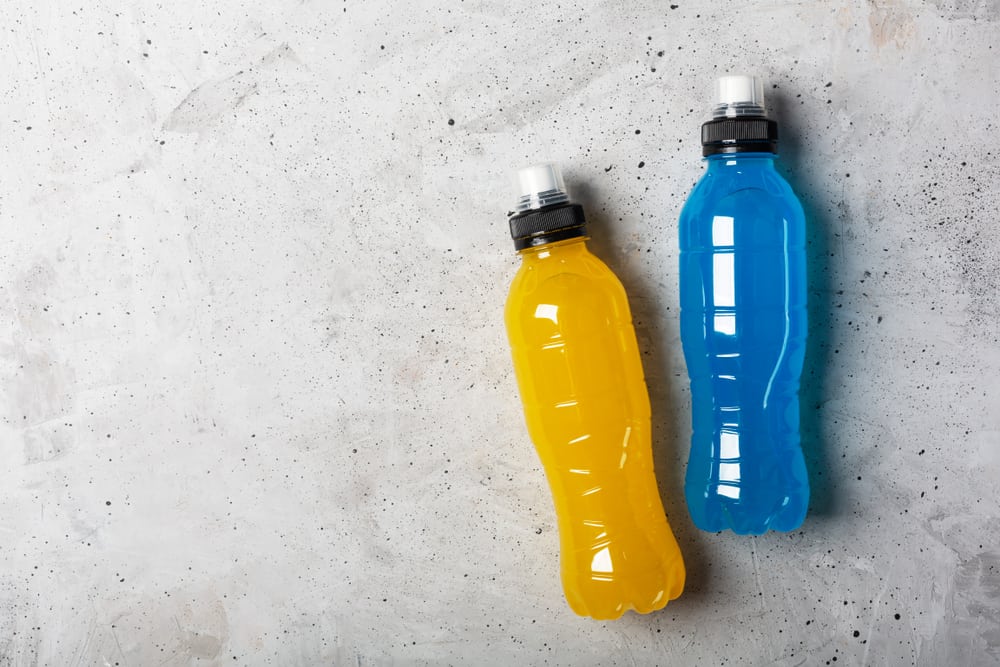 Sports drinks are known for their high electrolyte content and hydrating qualities, but they also contain a surprising amount of sugar. One 12-ounce Gatorade contains 21 grams of sugar. Powerade clocks in with a similar number. The zero-calorie alternatives pose the same concerns as diet sodas and are best avoided.
If you're on the hunt for electrolytes, mineral water is a much better option.
Fruit Juices and Smoothies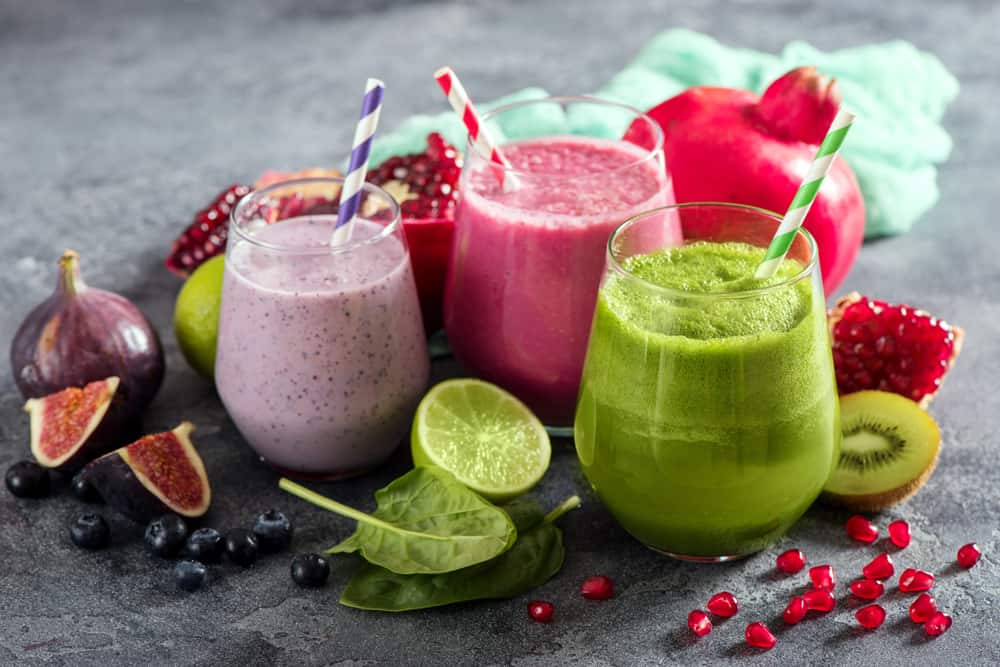 Fruits are an excellent source of fiber, vitamins, and minerals. They are also a great source of natural sugars, which doesn't bode well for intermittent fasting. Fruit juices and smoothies will break your fast, so save them for your eating window.
Milk
Milk is a nutritious drink full of fat, sugar, milk proteins, and calories, all of which will break your fast. Milk is another drink best saved for your non-fasting periods.
Alternative Milks
Alternative milks still contain carbohydrates and calories and will ultimately break your fast. But because they are less calorically dense than cow's milk, some argue that a splash of alternative milk in coffee or tea is acceptable while fasting. This is up to your discretion and the intensity of your fast.
If you need to add a splash of something to your drink, almond milk has less sugar and fewer calories than other alternatives (especially oat milk). Make sure to choose plain and unsweetened almond milk and use it sparingly.
Energy Drinks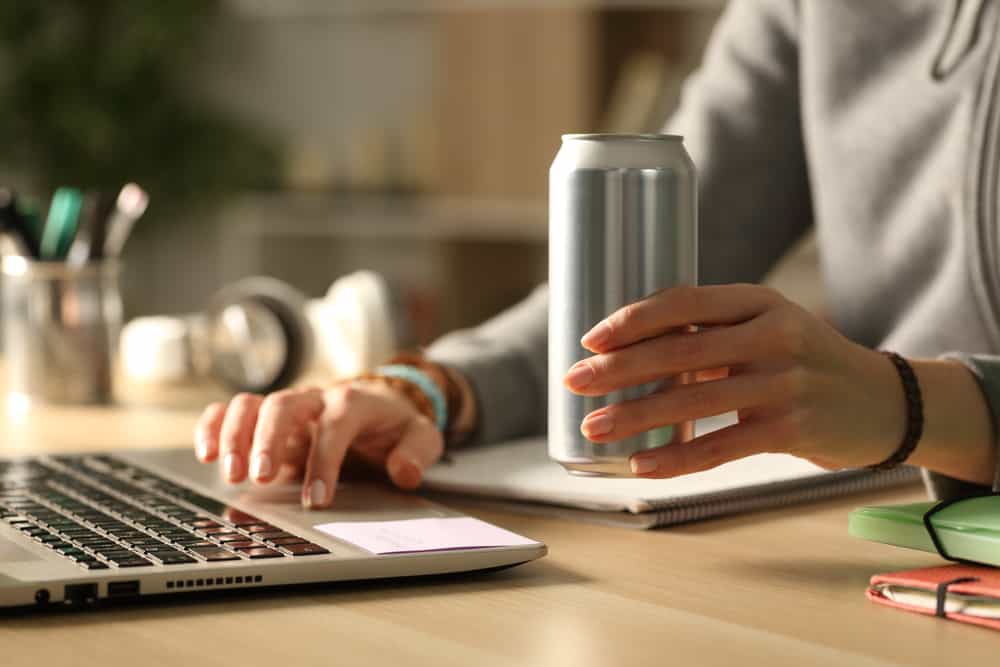 Energy drinks may taste delicious and get you buzzing, but their combination of stimulants can have dangerous effects on your cardiovascular and neurological health. Artificially high levels of caffeine can induce palpitations, tremors, and agitation.
The average energy drink contains 28 grams of sugar, a huge hit to your insulin levels, and a significant chunk of calories. If you need a dose of energy during your fast, black coffee or caffeinated tea are significantly safer (and calorie-free) options.
Cocktails and Alcohol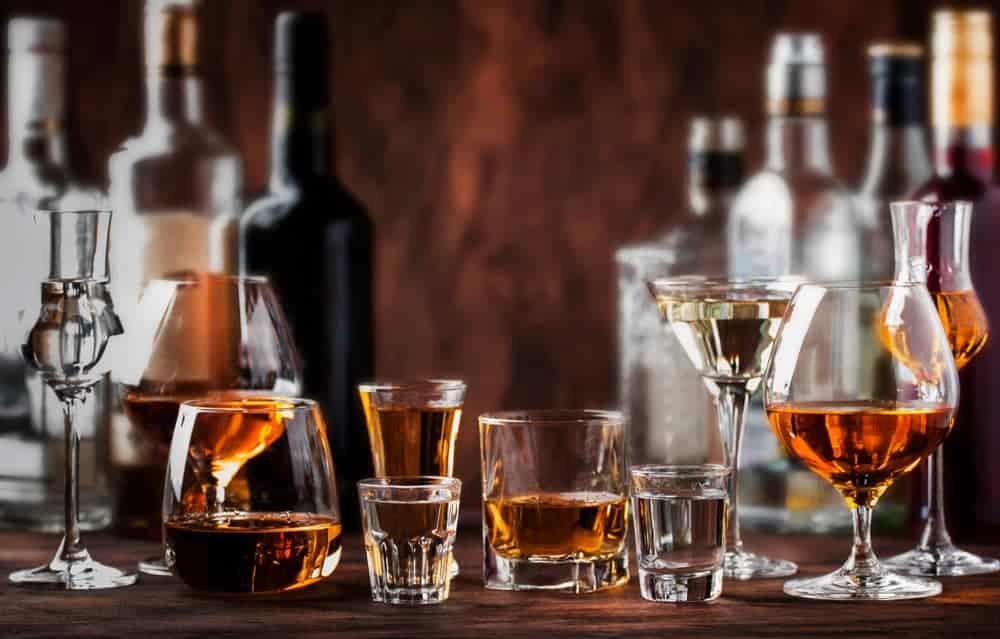 Alcohol is one of the most calorie-dense drinks you can find. One shot of hard liquor has over 100 calories, and the carbohydrates in a glass of beer or wine will automatically break your fast.
Alcohol dehydrates your body, which is especially dangerous while in a fasted state. If you drink during your fasting period, your empty stomach will cause the alcohol to rapidly enter your bloodstream and risk extreme intoxication and dehydration.
Only drink alcohol during the eating window of your fast and do so in moderation. Make sure to eat a full meal beforehand to slow absorption and balance your drinks with plenty of water to prevent dehydration.
Bone Broth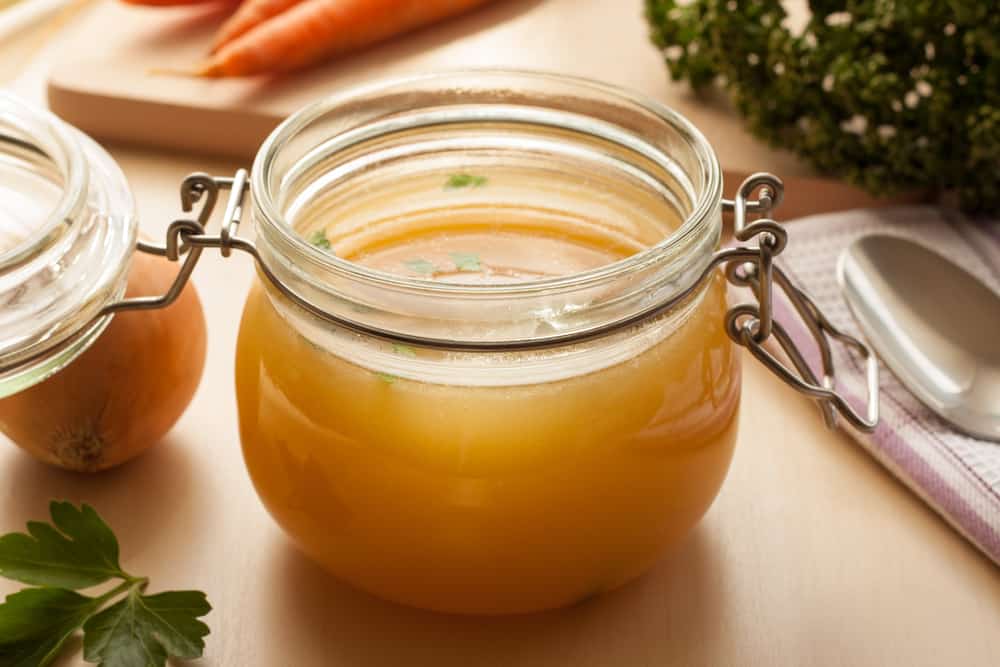 Bone broth is a hearty source of nutrients. It is low-calorie and low-carb… but it contains protein that your body will need to metabolize, technically breaking your fast.
If you're doing an open fast with less strict parameters, bone broth can be a great way to replenish salt and increase feelings of fullness. Strict fasters, however, should stick to water.
Is There a Limit to How Much Liquid I Can Drink?
While fasting, it is actually recommended to drink more than usual. In addition to the standard eight cups (64 oz) minimum daily recommendation, make a conscious effort to take extra sips of water throughout the day. Try to aim for the 3-liter (101 oz) mark, which can improve your health! If you live an active lifestyle, rehydrating is especially important.
And as you drink, don't forget the salt! Sodium is a crucial signal transmitter for every cell in your body and is lost quickly while fasting, so make sure to consume enough sodium during your eating period to balance your liquid intake. You can even sprinkle a bit of salt in your water during your fast. This can work wonders to prevent the headaches and fatigue of electrolyte imbalance.
Key Takeaways and Suggestions: What Can You Drink During Intermittent Fasting?
Staying hydrated while intermittent fasting is essential. Plain, mineral, and naturally flavored water should be the foundation of your daily intake. Black coffee and teas are great sources of caffeine and antioxidants but should be consumed in moderation to avoid side effects. Avoid any drink or additive with sugar or artificial sweeteners; the resulting insulin spike will disrupt your fast.
Drinking throughout the day can help you feel fuller and may help you stick to your fast more easily. There are lots of calorie-free drinks to choose from, so feel free to spice up your fast with some lemon water or green tea. Just make sure cream and sugar don't find their way into your cup.