Intermittent fasting took the health world by storm in 2012. Since then, its spotlight has only grown stronger and more complex. You've probably heard medical experts and gym junkies alike debate the pros and cons of this unique diet, and dipping your toes into the world of fasting can feel intimidating. How do you know if intermittent fasting is right for you? And how do you start a beginner intermittent fasting schedule?
Intermittent fasting is a diet you can customize to your lifestyle, activity level, and overall health goals. Time-restricted eating (TRE) is the most flexible method and is a great beginner intermittent fasting schedule.
Why Should You Consider A Beginner Intermittent Fasting Schedule?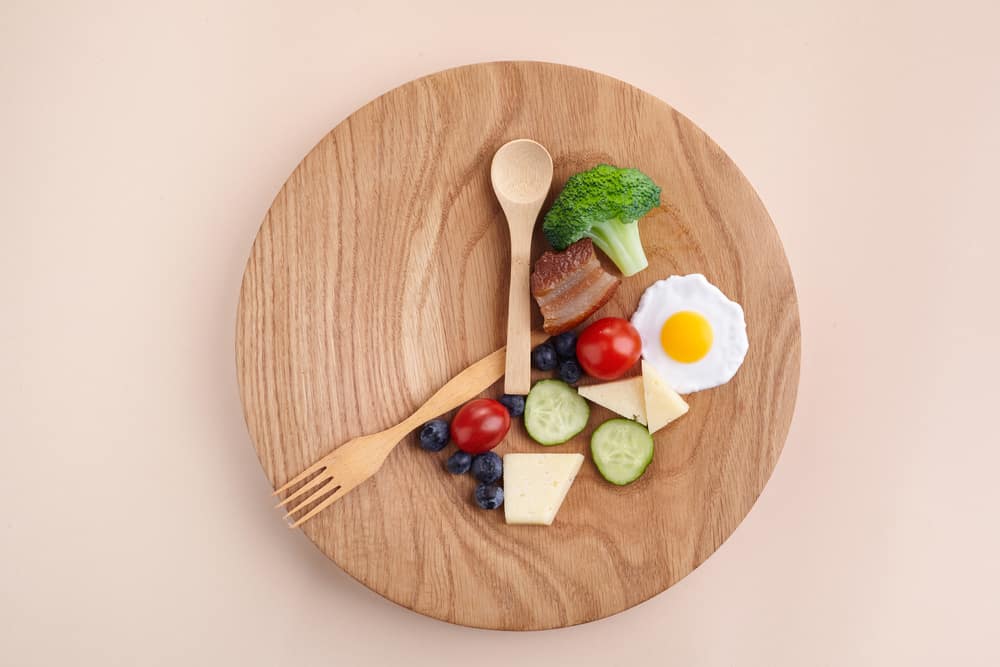 Research is steadily pointing toward intermittent fasting (IF) as a positive choice for health and longevity. Everyone's body reacts differently to dietary changes, but IF often improves metabolic and inflammatory markers, helping with weight management.
How does IF work? Under normal conditions, your body breaks down sugar stored in your liver and muscles to use as fuel. Fasting introduces a period of extended food scarcity, so your body is forced to find an alternate fuel source. It eventually runs out of available glucose, so it turns to the next best thing: fat!
Your metabolism starts deconstructing your fat cells into ketones. Ketones are exciting friends to find floating through your bloodstream; they have neuroprotective effects, reduce inflammation and promote cellular regeneration, and benefit your cardiometabolic health. Combined with IF's history of improving blood sugar and insulin levels, that's a nice cocktail of benefits!
And the best part? We are naturally in a fasting state while we sleep, so half of the work is already done when you wake up in the morning. Not a bad deal!
What Are Your Goals?
Embarking on any health journey is like a superhero being called to action: you need a clear vision of your ideal outcome before you can tackle saving the world. Or in this case, intermittent fasting.
What do you want to achieve? What goals are driving you? Knowing your own motivations sounds straightforward, but taking a moment to truly understand why you want to begin fasting will keep you focused and motivated.
Weight Loss
Study after study has shown IF is an effective way to lose weight. Some people even find it more effective and sustainable than general calorie restriction. Instead of consciously eating less throughout the day, consuming all of your calories in one 6-10 hour window can feel less restricting and more satisfying.
If you are significantly overweight, IF can still be a great choice to help manage your weight and improve longevity. IF should be viewed as a long-term strategy, not a crash diet, so set reasonable expectations and don't restrict yourself to an extreme unless supervised by a medical professional.
The goal is not to feel trapped in a miserable diet; the goal is to use IF as a tool to feel your best!
Disease Prevention
IF is associated with a plethora of health benefits. Studies suggest IF can improve thyroid function, prevent diabetes, lower blood pressure, maintain a healthy BMI, and even prevent certain cancers and neurogenerative diseases. Many studies are still early-stage, but their conclusions are promising, to say the least!
However, fasting may not benefit everyone. Genetics, sex, and age all contribute to IF's effects on the body, and not all of them are positive. But more research is needed to confirm and specify the potential negative outcomes of IF.
Like any nutritional plan, IF isn't a magic cure-all formula. Take its positive claims with a grain of salt, but don't let that salt prevent you from giving fasting a try if it feels right for you.
Improving Overall Health
Even if you aren't targeting specific health concerns, IF can still be hugely beneficial. Studies show fasting reduces oxidative stress (an imbalance between free radicals and antioxidants in your body) and its resulting inflammation, helping to slow the aging process.
It can also help balance the metabolic sleep regulators in your circadian rhythm. Stress resistance, neuron production, and synaptic plasticity are noteworthy benefits from a well-maintained circadian rhythm. And the better your sleep quality, the more cellular repair your body can perform while you're in dreamland. 
Which Fasting Method Is Right For You?
Are you a stressed-out parent with a whirlwind schedule? A student trying to prioritize your health despite pulling all-nighters? Maybe you're an athlete, or perhaps you're a couch potato looking for a jumpstart.
Everyone's needs are different because everyone's life is different. As you approach fasting, think about your work schedule, activity level, mental health, eating habits, and sleep schedule. There's no single "right way" to intermittent fast. Choose the fasting method that best fits your unique lifestyle.
Time-Restricted Eating
Perhaps the most well-known method, time-restricted eating (TRE) prolongs your nightly fast by restricting your eating window during the day. For example, someone following an 18:6 TRE schedule would fast for 18 hours (including sleep) and eat during a six hour window. You have the freedom to control virtually every element of TRE, including sleep time, wake time, fasting length, and your caloric intake during your eating window.
Some studies suggest a fasting window of 8-10 hours is optimal for best results and fewer side effects. Scheduling your eating window earlier in the day has been shown to maximize IF's metabolic benefits, including glucose control and weight management (if you regularly skip breakfast, this may be your sign to break the habit).
Important Note About Time-Restricted Eating
Although TRE can be paired with calorie control to increase weight loss, don't over-restrict yourself. After a prolonged fast, your body needs proper nutrition to keep running smoothly.
5:2 Method
Want to incorporate IF into your routine but daily TRE isn't right for you? Perhaps a modified fasting regimen will fit the bill. With the 5:2 method, you eat like you normally would for five days of the week and fast for the remaining two. Sounds a bit more approachable, right?
Your caloric intake on fasting days should be about 25% of your usual calories. So, if you typically eat 2,000 calories in a day, aim for about 500 calories on fasting days. And make sure your fasting days are non-consecutive! Fasting two days in a row won't improve your results, but it could heighten side effects like moodiness and fatigue.
Alternate-Day Fasting
Alternate-day fasting (ADF) involves fasting for an entire day, then eating freely the next day. Like the 5:2 method, your fasting-day calories should be about a quarter of your usual daily consumption. Don't feel like your fasting days need to be devoid of food. True 24-hour, zero-calorie fasts should be done carefully and are not suitable for beginners.
ADF in general is a tricky fasting method to start with. Hunger pains are common on long fasting days, which can affect your mood, energy levels, and performance. This makes ADF a tough IF method for both beginners and pros alike.
An Important Note About Alternate-Day Fasting
ADF doesn't increase weight loss when compared to TRE, so whichever fasting method you choose will have comparable results. It's all up to your preferences!
How Do You Get Started?
After identifying your goals and choosing a fasting method, map out your week and see where IF fits. If you've chosen TRE, decide whether your fasting period will be in the morning after waking or in the evening before sleeping. Decide the length of your fasting window and visualize how it will impact your day.
For ADF and 5:2 followers, thoughtfully pick your fasting days. For example, if you know your Fridays are packed with energy-draining meetings, fasting may exacerbate your exhaustion. Or, conversely, maybe that busy schedule keeps your mind too busy to think about food, so fasting would be a piece of cake. Everyone is different!
After trying your chosen method for a couple of weeks, take a moment to assess. Does your fasting routine work well with your schedule? Does your mood drop near the end of a long fasting window? And does fasting feel sustainable for you long-term?
If something isn't working, it's time to adjust. Try fasting in the mornings instead of the evenings, eating more calories during your eating window, drinking more water, or going to bed earlier. Tinker with your fasting formula until it works for you.
Things To Keep In Mind While Intermittent Fasting
We'll start first with setting reasonable goals.
Set Reasonable Goals
Your health journey is a marathon, not a race. It's easy to jump into a new diet or fitness program with bright-eyed enthusiasm only to crash and burn a week or two later.
Identify your end goals, then break them down into manageable steps. For example, instead of starting with an 18:6 TRE schedule, ease your mind and body into the fasting process with a 12:12 program and work up from there. "Aim for the moon and you'll land among the stars," doesn't apply here. Instead, aim for the stars you can reach and they'll lead you to the moon.
Underlying Health Conditions
IF may help improve a myriad of conditions, but anyone with pre-existing health concerns should speak with a medical professional first. If you have high blood pressure, diabetes, metabolic syndrome, heart disease, or might be pregnant, your doctor or nutritionist can help you develop the best plan for your health and goals. Before doing IF, we recommend you consult with a medical professional anyway but especially in the above cases.
Diabetics must be especially careful. Excessive ketone build-up can lead to diabetic ketoacidosis, a very dangerous state. It is crucial to check with your doctor before beginning a ketosis-inducing dietary plan. Ask for their help developing a diabetes-friendly IF plan.
If you're at risk of developing an eating disorder, fasting should be approached with caution. Overzealous IF can quickly lead to malnutrition. Food cravings and fixations can re-appear, and monitoring your food intake could cause mental strain or anxiety.
Side Effects
Fasting gives the term "hanger" (hunger + anger) a whole new meaning. Going over half of the day without food can make anyone cranky and reasonably so! When starting IF, you may experience side effects like headaches, fatigue, irritability, and intense hunger.
Staying hydrated can help mitigate some of these side effects. If they don't disappear after a few weeks, it's time to re-evaluate your fasting plan and make some changes.
Give Yourself Grace
Starting a new diet is hard! Maintaining one is even harder. With every positive choice you make, there are countless temptations trying to lead you astray.
You may slip up. In fact, you will slip up, and that's okay. Perfection isn't the goal; consistency is the goal.
Fasting is a mental game that will test your determination, stamina, and perseverance. Acknowledge the bumps in the road and don't let them get you down. As long as you stay on the path, you're heading in the right direction.
The Bottom Line For A Beginner Intermittent Fasting Schedule
A beginner intermittent fasting schedule should be tailored to your lifestyle. Don't bite off more than you can chew (pun intended); start slow, and thoughtfully integrate fasting into your daily practices.
Beginners find the most success with a moderately intense time-restricted eating schedule, such as 14:10. You can work up to longer fasting intervals, or you can maintain your current plan. Listen to your body, don't push yourself to extremes, and keep your eyes on the prize. You got this.
So, which IF schedule are you going to try first? Let us know your thoughts and why in the comments below!