Weight loss can be very confusing, especially when you lack the correct information. There's so much information on intermittent fasting and safe exercises on the internet, but how can you be sure which is safest for you? Here's a guide to starting an intermittent fasting workout schedule.
An intermittent fasting workout schedule combines the benefits of intermittent fasting and exercise. That means choosing a type of intermittent fast, such as a 12-hour fast, 5:2 fast, or some other type of fast. It also means choosing a type of exercise regimen, such as high-intensity interval training or more traditional cardio, and pairing them together to fit your weight loss and health needs. The best type of schedule will be one that works for you. Always talk to your doctor before going on a fasting or exercise regimen.
What Are The Types Of Intermittent Fasting?
Let's start from the beginning. What is intermittent fasting (IF)? It is a type of fasting that focuses on when you eat. Basically, you'll be consuming food in a specific pattern. Just like other forms of fasting, you achieve weight loss through a caloric deficit. There are also a few types of IF.
12-Hour Fast
This type of fast is great for beginners because the fasting period is short, and you can incorporate your sleep time into this window. Beginner-friendly fasting schedules ensure that you don't struggle and give up on IF on the first try. Also, fasting for more than 12 hours allows your body to break down fats and release ketones, promoting weight loss.
The 5:2 IF
For this type of fast, out of the seven days of the week, you eat as you normally do for five, and then restrict calorie intake to 500 calories for the remaining days. This will promote insulin sensitivity, increasing the loss of weight.
Alternate-Day Fasting
This type of fasting enables you to eat whatever you want on non-fasting days and up to 500 calories on the days you are fasting. It's not advised for beginners though, and it is not effective in the long term.
A Day Fast
You may know this one as the Eat-Stop-Eat fast. In this type of fast, you can choose a day or two to fast. You can do a water fast, juice cleanses, or fluid fast on fasting days. There are fluids you are allowed to drink that won't break your fast too.
Warrior Diet
Leave this one to the fasting pros. This fast involves eating small meals during the day (20 hours) and a large meal at night (4-hour period). For the small meals, stick to vegetables, fruits, and healthy fats.
Now that we know what intermittent fasting is, let's answer the question, why do it?
Benefits Of Intermittent Fasting
Intermittent fasting has lots of benefits. Here's what some of them are:
Regulating sugars
Weight management
Helps with fat metabolism and reduces cholesterol levels
Blood pressure regulation and promoting heart health
Reducing inflammation
Is It Safe To Workout While Intermittent Fasting?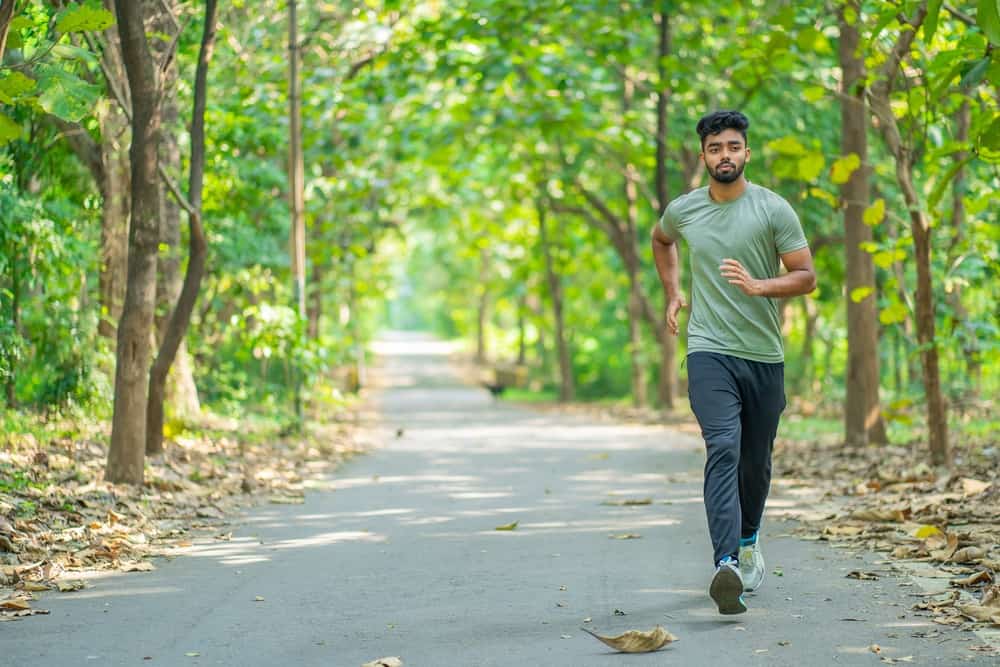 Sara at the office is a regular at the gym and is on the alternate-day intermittent fast. You want to hop on the IF train too, but are wondering whether it is safe to work out as you fast. Yes, it is okay.
Fasting promotes weight loss through caloric deficit, while exercise builds muscle. Combining both will enable your body to reap the best of both worlds.
Note that doing it right is what makes it safe. Eating the right foods pre- and post-workout and choosing low-intensity exercises makes coupling exercise with IF safe. You will allow your body to properly regenerate new cells, reduce inflammations and release growth hormones for optimum body functioning.
What Are The Benefits Of A Safe Intermittent Fasting Workout Schedule?
While fasting, your body uses stored glycogen as its fuel leading to depletion. So when you squeeze in a workout while fasting, your body will use fats to fuel your exercise.
Exercising while on IF promotes the regeneration of new healthier cells from damaged cells. Who wouldn't want that?
A good workout session during your fast goes a long way to promote your cells' insulin sensitivity. This could help people living with diabetes control their weight and blood sugar. With that said, please especially talk to your doctor about this.
In addition to this, working out while on IF promotes muscle growth. The level of growth hormone in your blood increases after exercise. In the fasted state, insulin levels in your blood are low. A combination of the two leads to an increased breakdown of fat deposits in the body, faster recovery, and promotes the building of lean muscles.
Are There Cons To Working Out While Fasting?
So, you have gotten the motivation to work out while on your fast but we need to slow down for a minute. Although the benefits of exercise on IF are impressive, there are possibilities of the combination not working too. Here are some things that can go wrong with an intermittent fasting workout schedule.
General Body Weakness
Exercise reduces blood sugar levels and so does fasting. When the levels are too low, you may get lightheaded and weak. Always be aware of what your blood sugar levels are while fasting or exercising.
Low Sugar Levels
Increased insulin sensitivity can be both a blessing and a curse. Reduced glucose levels in the blood due to exercise and increased uptake may cause sugar levels to drop too low, leading to fainting.
Poor Workout Performance
Working out coupled with IF may deplete your energy so much that it affects your performance. Moreover, this reduced energy may cause your body to break down proteins in your muscles to fuel your workout.
Mood Changes
A hungry person can become an angry person. Low blood sugar could cause aggressiveness and irritability. Fasting can cause headaches, increased hunger, and fatigue. All these symptoms could affect your mood negatively.
Things To Do To Make Your Intermittent Fasting Workout Schedule Effective
Let's start with hydration.
Hydration
Make fluids your friends, whether water, green smoothies, or something else. A water fast is the best place to start to ensure maximum hydration during your workout.
Take It Easy
Your body knows what it needs, so pay attention to it. Before getting into fasting exercise, ensure your body is well-adapted to fasting. You don't want to overwork your system. The type of exercise you couple with your IF plays a significant role in your weight loss journey.
Also, high-intensity workouts like heavy lifting and CrossFit rely on carbohydrates for fuel. Since in IF, there won't be enough carbs, your body will use proteins in the muscle to fuel your workout.
Cardio exercises require less energy and can be fueled by fat. Couple your IF schedule with light exercise like yoga, cycling, jogging, and walking. A walk in a beautiful park can be therapeutic, for example.
Exercise And Calorie Balance
Your diet while fasting and exercising will impact the outcomes of your weight loss plans. Timing your pre-workout meal before an intensive exercise will ensure your body has glycogen in its stores to fuel your workout.
Pre-workout meals should be nutrient-dense, rich in protein, complex carbs like grains, and healthy fats.
Half an hour post-workout, proteins are essential to help with muscle repair and building. High-quality proteins plus carbohydrates aid with faster recovery. A delicious protein bar or smoothie is convenient when in transit between home and the gym.
There are nutrient-dense and easy-to-digest foods that are healthier and the best meals to break your fast.
Furthermore, flavoring your meals with natural herbs and spices improves the taste of your meals without adding any extra calories to them. Thyme, garlic, ginger, mint, oregano, and vinegar are perfect to introduce a magnificent burst of flavors to your plate.
Choose The Right Workout Schedule
Not every type of workout schedule will work with intermittent fasting, and you'll have to make sure you choose one that does. For example, if you're a 5:2 intermittent fasting schedule, you wouldn't want to do heavy or intense exercise on the two days you're reducing your calorie intake. So, keep this in mind as you search for the right workout schedule and types of exercises to fit within that schedule.
In Conclusion: Intermittent Fasting Workout Schedule
To reap the full benefits of fasting exercise, you need to be patient, build up gradually and listen to your body. Before diving into this lifestyle, speak with your doctor. This is not a one-size-fits-all situation, so pick what works best for you.
Also, working out while on intermittent fasting is not advisable for pregnant women, people with eating disorders, diabetic patients, and children. Taking part in this could worsen their condition or have adverse effects.
With all that said though, what sort of intermittent fasting workout schedule are you planning on going on? Let us know your thoughts and why in the comments below!