Intermittent fasting has become a trend. However, some have said its benefits are not better than a fad. Conversely, studies have documented its benefits with clinical evidence. But what are the benefits of intermittent fasting?
Intermittent fasting has immense benefits. It can help you lose weight and fat. Also, it improves blood sugar regulatory processes, strengthens the cardiovascular system, and enhances brain health. Furthermore, it improves physical agility and reduces the risk of metabolic syndrome. However, if not done correctly, it may cause your health to deteriorate. Always consult with your doctor prior to starting an intermittent fasting regimen.
What Is Intermittent Fasting?
Intermittent fasting is a dietary pattern in which you cycle between eating and fasting regularly for a set period. During the fasting period, you may choose to reduce calorie intake or engage in total abstinence from food. While other dietary patterns focus on what you eat, intermittent fasting focuses on when you eat.
Common intermittent fasting dietary patterns include time-restricted, alternate-day, and periodic fasting. In time-restricted fasting, you eat for a set number of hours each day and consume nothing for the rest of the day. The alternate-day fast allows you to eat freely one day and fast the next. You may fast completely or consume as few calories as possible during the fasting day.
In periodic fasting, you limit your calorie intake for a set number of days, such as five days in a row biweekly or monthly, and eat unrestricted on the other days.
Benefits Of Intermittent Fasting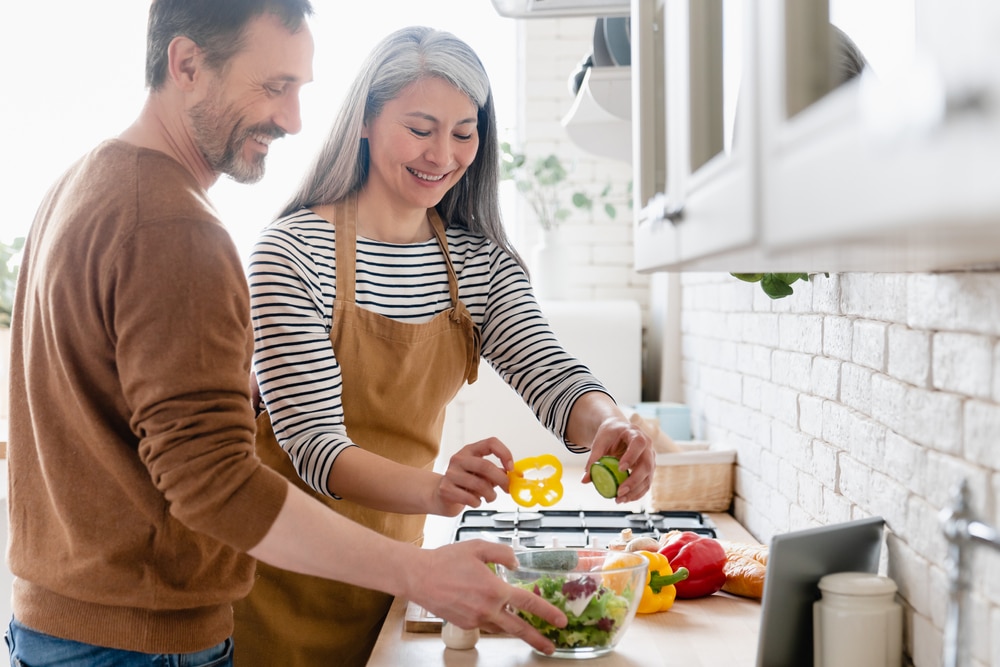 The benefits of intermittent fasting arise from its ability to shift the body's energy source from glucose to ketones. This switch doesn't just result in fat and weight loss either. It also induces beneficial physiological and cellular responses. These cellular responses improve glucose regulation, stress resistance, and inflammation suppression.
Cellular responses also activate pathways that boost their intrinsic defenses against free radicals and metabolic stress while fasting. In addition, they also activate rejuvenation mechanisms, which remove or repair damaged molecules. Furthermore, in the fed state, these cellular responses strengthen the body's resistance to diseases, improve mental performance, and increase physical agility.
As an adjunct, intermittent fasting aids in treating chronic diseases such as obesity, diabetes, cardiovascular diseases, cancer, and neurodegenerative diseases. Let's start with metabolic syndrome.
Metabolic Syndrome
In metabolic syndrome, intermittent fasting reverses all its biomarkers. These biomarkers are waist circumference, plasma triglycerides, high-density lipoproteins, blood sugar, and blood pressure.
For reference, metabolic syndrome is the presence of at least three of the following:
Waist circumferences greater than 40 inches in men and 35 inches in women
Triglyceride levels higher than or equal to 150 mg/dL
High-density lipoprotein cholesterol (HDL) levels of less than 40 mg/dL or 50 mg/dL in men and women, respectively
Fasting blood glucose level greater than or equal to 1,000 mg/dL
Elevated blood pressure greater than or equal to systolic 130 mmHg and or diastolic 85 mmHg
Diabetes And Obesity
Intermittent fasting improves insulin sensitivity, lowers blood sugar levels, prevents obesity caused by a high-fat diet, and improves diabetic retinopathy in obese and diabetes mellitus patients.
It also improves cardiovascular health indicators such as blood pressure, resting heart rate, high-density and low-density lipoprotein cholesterol, triglycerides, glucose, insulin, and insulin resistance.
Cancer
In cancer, intermittent fasting slows tumor growth while increasing sensitivity to chemotherapy and radiotherapy.
Neurodegenerative Disorders
In neurodegenerative disorders, intermittent fasting delays their onset and progression by increasing the neurons' resistance to stress. Neuronal stress resistance mechanisms include deoxyribonucleic acid repair and autophagy. In addition, increasing γ-aminobutyric acid–related inhibitory neurotransmission also prevents seizures and excitotoxicity.
Adverse Effects Of Intermittent Fasting
Though intermittent fasting can help you lose calories, fat, and weight, engaging in extreme fasting can make you quickly gain back the weight and develop hypoglycemia, fatigue, depression, insomnia, and organ damage. If you are at risk, you may develop or bring back an eating disorder. In addition, it may worsen your health problems.
Headaches, dehydration, malnutrition, feeling hungry, and experiencing bad breath are other adverse effects. Also, constipation may occur as a result of decreased bowel movements. Furthermore, you may notice changes in your menstrual cycle if you are a female.
Secondary findings from a randomized control clinical trial revealed that fasting days caused participants to feel hungrier, had more cravings, and had lower mood and fatigue than eating days. Therefore, you should consult a clinician when you plan to start intermittent fasting or change your fasting regimen and diet.
When To Avoid Intermittent Fasting
Let's start with higher caloric needs.
Higher Caloric Needs
If you are underweight, struggling with weight gain, under 18 years of age, pregnant, or breastfeeding, you should not engage in intermittent fasting because you need sufficient calories daily for proper body development.
You Are Older
Also, you should not engage in an intermittent fast if you are a geriatric due to the increased risk of hypoglycemia.
At Risk Of Or Have An Eating Disorder
Due to the association of intermittent fasting with bulimia nervosa, you should not engage in intermittent fasting if you have an eating disorder or struggle with perfection, impulsivity, and mood instability.
Diabetes Mellitus
While intermittent fasting can help with diabetes, it's important to understand everyone's body is a little different. If you have diabetes and you're considering intermittent fasting, we especially recommend consulting with your doctor beforehand. If not done properly, intermittent fasting can increase the risk of hypoglycemia.
Kidney, Heart, Or Liver Disorders
Engaging in intermittent fasting while experiencing kidney, heart, or liver disease can cause electrolyte imbalance, dehydration, and fluid overload. It can also worsen the dysfunction of the affected organ.
Engaging In Successful Intermittent Fasting
You must prepare physically and mentally to reap the full benefits of an intermittent fast. This preparation enables you to overcome any difficulties or adverse effects that may arise.
First, consult your doctor about your health and whether intermittent fasting is safe. If your doctor thinks it's necessary, they'll recommend an intermittent schedule or modify one if you take any medications. Also, your doctor will help you devise a meal plan to eat healthily while consuming enough calories to avoid undereating.
Finally, you should mentally prepare for the adverse effects you may encounter and resolve to overcome them. For example, you may become irritable as your body adjusts to the intermittent fasting schedule.
Tips For A Successful Intermittent Fast
The following tips will help you have a successful fast.
Stay Hydrated
Staying hydrated helps reduce fluid loss and the associated adverse effects. Aside from water, you can stay hydrated by drinking calorie-free beverages such as black coffee, unsweetened tea, and lemon water. Conversely, avoid soda, sweet tea, energy drinks, alcohol, and milk. These beverages contain calories.
Consume Fiber-Rich Foods
Fiber-rich foods like fruits, vegetables, and whole grains keep you fuller for longer than other foods. They also help to reduce hunger pangs and cravings during your fasting period. They also help reduce the likelihood of constipation.
Reduce Consumption Of Sugary Foods
Sugary foods and snacks raise blood sugar levels and make you hungry. As a result, limit your intake of these foods and avoid them entirely while fasting.
Avoid Eating Late At Night
Eating late at night can be harmful and disrupt your internal body clock. Insulin resistance, gastrointestinal disturbances, and poor sleep may result from disrupting your internal body clock. Avoid late-night meals to maximize the benefits of intermittent fasting.
Decrease Your Eating Time Gradually
To minimize the adverse effects of an intermittent fast, begin it slowly. For example, start with an 8-hour eating window to help you adapt faster than jumping right into more rigorous fasting schedules, such as the 24-hour fast.
In Conclusion: Intermittent Fasting Benefits
In healthy people, the benefits of intermittent fasting outweigh the risks. However, it is only suitable for some, and it must be done properly. So, always consult your doctor before beginning an intermittent fast.
So, what do you think about the benefits of intermittent fasting? Are you going to try a regimen? Let us know in the comments below!