If you're on a diet, dried fruits and nuts are surely among your top snack options. They're incredibly good for you and full of flavor. In most cases, if you are at work or simply have a busy schedule, you may end up snacking on the wrong things. When you put this together, it adds up to a lot and goes straight to the waistline or hips. Instead, choose a healthier alternative like dried fruit or nuts and refuel the right way.
Thanks to the conversations surrounding it, dried fruit has become synonymous with a healthy snack. However, not all of them may be good for you. If laden with chemicals, preservatives, or artificial stimulants, these are harmful to your well-being. In such cases, your snack isn't much healthier than crisps or fries. Buying the right product from reputed dried fruit brands is an excellent idea and ensures that you get your money's worth.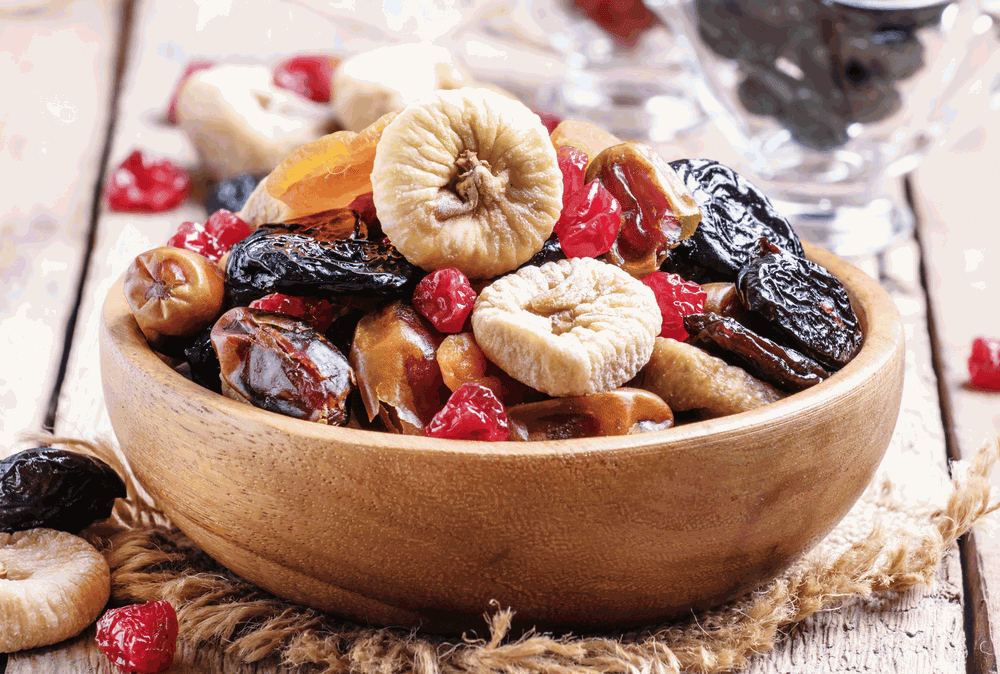 In this article, we're taking you through a quick list of the ten most amazing dried fruit brands in the current market.
Best Dried Fruit Brands: Top 10 Picks
1. Nut and Dried Fruit – Oh Nuts!
We loved this product so much that it made it to the top of our list. Oh Nuts! is a well-known brand when it comes to dried fruits and nuts. They've been among the best in the industry for a while now, and there's a good reason for this! The family-owned company believes in producing high-quality products by souring from the finest possible sources. They are health-conscious and consequently, try and avoid extra sugar or additive in their dried fruit products. With that being said, they also have a candy section for when you need to cheat on your diet.
Check Price
Their Gift Box is among their best product as it has a wide selection of high-quality and specialty dried fruits. This particular package has 12 variants including almonds, pistachios, dried pineapple, apple rings, craisins, dried kiwi bits, dried papaya, royal dates, dried apricots, dried pears, dried summer plums and dried peaches.
You can use this dried fruit for constipation troubles as it has sorbitol-rich apricots and craisins. This pack is a great gift idea for a health-conscious friend. Above all, it makes for for an excellent family-sized healthy snack.
Pros
Contains Protein-rich nuts
Offers sweet and salty snacking variants
Contains over twelve types of dried fruits and nuts.
Reputed Manufacturer
Certified Kosher
Vegetarian and Vegan-friendly
Dairy-free
Cons
Three dried fruits (pineapple, kiwi and papaya) contain added sugar
May contain trace amounts of Sulfur Dioxide
2. Mavuno Harvest Dried Fruit
This is another among the best dried fruit brands in the current market. Mavuno Harvest is an ethical company founded by a former Peace Corps volunteer. This company produces a wide variety of dried fruit and nut snacks. Most noteworthy is the fact that they are sourced mostly from poor African countries, their high-quality products help underprivileged communities while bringing you an incredibly healthy snacking option. We certainly like their social-conscious approach to business.
Check Price
As far as their products are concerned, they offer a wide variety of products such as Organic Pineapple and Passion Fruit Bites. They also offer crunchier options like Organic Roasted Cashews. Mavuno Harvest's products don't contain harmful additives, fillers or dyes, and this makes it shine in our opinion. Moreover, the organic and plant-based snacking options make for a great post-workout or evening snack.
There is surely something for everyone and Mavuno Harvest is genuinely invested in bringing high-quality products to their customers.
Pros:
All products are highly nutritious and healthy
No added sugar
Offers sweet and salty snacking variants
Reputed Manufacturer
Certified by USDA
Vegetarian and Vegan-friendly
Dairy-free
Cons
Some variants like the Organic Dried Coconut are high in Fat
Slightly Pricey
3. Farm Fresh Nuts Dried Mixed Fruits
Another reputed brand, Farm Fresh Nuts offers a wide selection of dried fruits, nuts and even seeds! It's a great option for those who enjoy dried fruits a lot and tend to go through them quickly. Farm Fresh Nuts is especially well-known for their bulk packaging sizes and excellent value for money.
Check Price
The brand's Gourmet Dried Mixed Fruit product is among our favorite for the simple fact that it has a decent variety, and it's also incredibly tasty. This product contains apricots, apples, pitted prunes, peaches and pears. These dried fruits are great for your health and offer healthy dietary fibers. They're additionally a clean source of fuel.
Pros
Product Size Variety – 1lb, 5lb, 10 lb and 25 lb packs available
Excellent Value For Money
No Added Sugar or Artificial Sweeteners
Reputed Manufacturer
Vegetarian and Vegan-friendly
Dairy-free
Cons
Contains Sulphur Dioxide
Customers complain of more prunes and apples, with fewer pieces of pears and apricots
4. Crispy Green Freeze-Dried Fruit
On Amazon, Crispy Green is among the most widely-preferred and extensively reviews dried fruit brands. This freeze-dried fruit is considered especially healthier than other types of dried fruit due to the freezing process employed to dry the fruit pieces. The US-based brand is popular even among kids and offers an enticing and wild variety of products.
Check Price
The company's website claims that Crispy Green is the number one Freeze dried fruit brand in the US, and we are in agreement. Thanks to the consistent quality, they have grown since their inception in 2004 to become the poster child for convenient freeze-dried fruit snacks.
Their variety pack as well as other variants such as dried apples, Crispy Green dried bananas, and dried cantaloupe are all well-received and have positive customer reviews online
Pros
Reputed Manufacturer
Certified Kosher
Vegetarian and Vegan-friendly
Dairy-free
Low-Calorie Snack Option
No Additives or Preservatives
Positive Customer Reviews
Unique Offerings such as dried Cantaloupe and Tangerine
Cons
Some variants like Pineapple may be chewy
Premium Pricing
5. NatureBox Dried Fruit: Best for weight loss
This Non-GMO product is another top choice on our list of the best dried fruit brands in the market. The product offering from NatureBox is surely impressive. One of our favorites was their Tropical Fruit Medley that has a rich assortment of banana, pineapple and mango. This product is one of the few paleo-friendly products we've seen, and all their products are certified Non-GMO.
Check Price
Other NatureBox products include CBD edibles, jerky, pretzels, crackers, and even chips. However, their dried fruits are probably the healthiest option as they have adequate fiber, low sugar and fewer calories. The other dried fruit products we liked were the Chile Mango and Big Island Pineapple snacks. With the option of getting shop credit for products you didn't enjoy, NatureBox could just become your go-to option for dried food for weight loss.
Pros
Non-GMO
Low-Calorie Snack Option
Refund Option if you don't like the products
Reputed Manufacturer
Cons
Fewer Options as compared to other brands
6. Mariani Sun Ripened Mixed Fruit
Mariani is among the oldest dried fruit companies in the US. They began in 1906 and even after four generations, their quality remains high, and the output is consistent. This company is also known to be a pioneer in terms of fruit drying technology in the industry. Coming from such a reputed and trusted manufacturers, we particularly like this product's quality and their prices.
Check Price
Their 36-ounce value pack of sun-ripened mixed dried fruit includes a wide selection of fruit including pears, plums, peaches, apricots and apples. The mix is designed to give you high amounts of dietary fiber, and Vitamin A. Without too much added sugar, this product is a great snacking option for you and your family. They even have an organic dried fruit product range that's preservative-free.
Pros
Reputed Manufacturer
High in dietary fibre
Vegetarian and Vegan-friendly
Dairy-free
Low-Calorie Snack Option
High in Vitamin A
Positive Customer Reviews
Cons:
Variety packs aren't well-mixed and have fewer peaches and pears
Contains Added Sugar
7. TerraSoul Dried Fruit
TerraSoul is a brand that's known for more than just dried fruit. This Texas-based company also specialized in seaweed snacks, nuts, and even trail mixes. Founded by a husband-wife duo in 2013, this company aimed to find incredibly nutrition-dense foods that can aid people with living healthier and happier lives.
Check Price
TerraSoul freeze-dried products include simple stuff like mango and apricot, but also more speciality products like acai berry and acerola cherry powder. The website offers some incredible monthly discounts and offers. Alternatively, you can purchase via Amazon for ease. The brand in itself has various accreditations, and it's among the best on Amazon's bestseller list, making it a formidable option on our list of the ten best dried fruit brands.
Pros
Reputed Manufacturer
High in dietary fibre
Vegetarian and Vegan-friendly
SQF Level 2 Certified
Kosher
Non-GMO
Positive Customer Reviews
On Amazon's Best Seller List
Cons
Shorter Shelf-life than Competitors
8. Steve's PaleoGoods Dried Fruit
This New Jersey-based company is family owned, and they have been churning out excellent products since 2008. One of the best aspects of these products is that they are hand-made in small batches to ensure consistent and excellent quality. Instead of using artificial colorants or flavoring agents, they add apple juice for tartness.
Check Price
The variety pack from Steve's PaleoGoods contains five of their most popular and bestselling dried fruits. It comes with dried blueberries, apples, cranberry, mango and strawberries. Unlike many other products that add in cheaper fruits, this brand has a selection that's yummier and not popularly found.
Pros
Reputed Manufacturer
Paleo-friendly
Gluten-Free
No Added Sugar or Artificial Sweeteners
Vegetarian and Vegan-friendly
Free Shipping over Purchases worth $50
Offers and Discounts Available
Cons
Premium Pricing
Weak Return Policy
9. IsoFrut Freeze Dried Fruit
Based in Miami, IsoFrut is another great brand when it comes to freeze-dried fruit snacks. They have been well-known for a while now, and their products are usually of exceptional quality.
Check Price
Since they have a meticulous manufacturing system, their products are nutrient-dense and retain most nutrition. They offer a ten-piece variety pack that contains dried fruits, including bananas, pineapple and berry mix variants.
IsoFrut's products are delicious and don't contain added sugars. Additionally, they are certified Non-GMO and gluten-free. The manufacturers try and keep dietary restrictions in mind so that their products can appeal to a wider audience. This is why they have strictly fat-free and vegan offerings.
Pros
Reputed Manufacturer
Rich in nutrients and dietary fibre
Gluten-Free
No Added Sugar or Artificial Sweeteners
Vegetarian and Vegan-friendly
Kosher
Offers and Discounts Available
Cons
Lack of freshness in some purchases
10. Gerb's Super 5 Dried Fruit Mix
Gerbs is an all-American company that claims to have a wide selection of allergy-friendly foods. All of the products that this brand churns out is free from fourteen of the most common allergens, including soy, wheat, dairy and even tree nuts. For people who have to follow a restrictive diet, this brand is a real lifesaver in more ways than one.
Check Price
While they don't have a guarantee for return shipments, they have an excellent customer service team that actively communicates with you. Additionally, their dried foods selection is enviable with options like blueberries, bananas, cherries, figs, dates, currants and even ginger. Gerbs' product range also includes seed mixes, grains, granola, dark chocolate, oats and even rice.
As far as the Super 5 Dried fruit mix is concerned, it has raisins, goji berries, cranberries, cherries and blueberries. These nutrient-rich fruits are sure to make for a yummy and healthy snack. The fact that they are Non-Gmo, vegan, and certified kosher are all added benefits.
Pros
Reputed Manufacturer
In-house production from purchasing to distribution ensuring higher quality output
Gluten-Free
No Added Sugar or Artificial Sweeteners
Vegetarian and Vegan-friendly
Kosher
Free from Common Allergens
Cons
Contains added cane sugar
Contains added sunflower oil
Final Thoughts
We hope that our comprehensive list of the ten best dried fruit brand helps you make healthier snacking choices. Whether you are an athletic person, a growing child, pregnant, or even in your later decades, dried fruits have lots to offer in terms of health benefits. Regularly consuming dried fruits and nuts can aid in fighting oxidative stress, improving immunity as well as blood flow, and keeping your digestive tract healthy.
While they may not be the lowest-calorie of lowest fat containing options, they sure beat greasy chips and chocolatey cereals. When thrown into a bowl of oatmeal or cereal, they can elevate your breakfast to something special. You can also use your dried fruits to make healthy smoothies, desserts or granola bars. In case you wish to keep it simple, there is always the option of grabbing a pack of dried fruit and eating it plain.