Intermittent fasting comes in many shapes and forms. It can be tricky to know what you can eat, what you can drink, and how to fast healthily without compromising your lifestyle. Many people ask the same question: can you drink water while intermittent fasting?
Yes, you can drink water while intermittent fasting. Water is calorie-free and will not break your fast. And, most importantly, water keeps your body's metabolism and essential cellular processes running smoothly.
Types Of Intermittent Fasting: A Quick Overview
Intermittent fasting has multiple methods. It's up to you to pick the method that works for your goals and lifestyle. We also recommend speaking with your doctor before going with any of these fasting methods, especially the ones that restrict your eating more than the others.
Time-Restricted Eating
Time-restricted eating (TRE) is one of the more well-known methods. Your calorie consumption is limited to a 4- to 12-hour window each day, and the rest of the time is spent fasting. This method is popular due to its flexibility; you can choose the timing, duration, and caloric density of your eating window to fit your needs. Fasting for 16 hours and eating within the remaining 8 hours (AKA the 16:8 method) is a common choice.
Current research gives TRE a promising future. Studies show TRE can lower body weight, glucose intolerance, high blood pressure, and high cholesterol in humans. Hot tip: Some research shows better TRE results when the eating window is early in the day!
Modified Fasting Regimens (5:2 method)
Instead of fasting every day like TRE, the 5:2 method allows you to eat normally five days a week. For the other two days (which can be non-consecutive), your daily calories are limited to around 500-600. Not a complete 24-hour fast, thankfully!
Initial studies have seen positive results, including fat loss, reduced inflammation, and a generally better mood (compared to TRE, which can often cause irritation and low energy in the early stages).
Alternate-Day Fasting
It's as simple as it sounds: fast for an entire day, then eat to your heart's content the next day. Rinse, repeat. It can increase your fat-burning (fat oxidation) metabolism, though some people report extreme hunger levels on fasting days.
Water-Only Fasting VS Intermittent Fasting
Water-only fasting is for the truly brave-hearted. You drink nothing but copious amounts of water (at least 2-3 liters) for up to three days. Anything further can be dangerous and should be monitored by a medical professional.
Water-only fasts have produced noticeable benefits, including stress reduction, weight loss, and heightened cognitive function. On the flip side, however, this fasting method can lead to significant dehydration, water-mineral imbalance (particularly sodium and potassium), oxidative stress, and other negative responses.
Intermittent fasting, on the other hand, involves regularly switching between eating and fasting. It is often a less-extreme version of fasting compared to the water-only method. Regardless, intermittent fasting should be done carefully and in tune with your body's needs.
Can You Drink Water During Intermittent Fasting?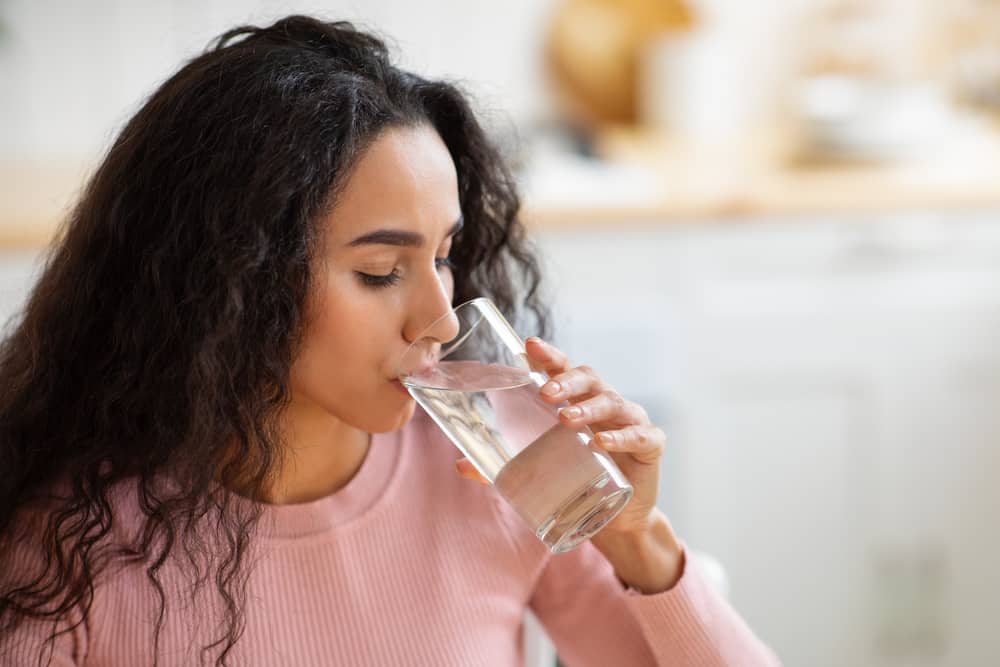 Yes, yes, yes! Water is calorie-free and will not break your fast. Staying hydrated is incredibly important, especially while fasting. Up to a third of our daily water intake comes from food, so drinking a bit more water than usual during your fast is a smart idea.
The Importance Of Hydration
Water is essential for pretty much every cellular pathway in your body, especially your metabolism. Everything from kidney function, electrolyte balance, athletic performance, cognition, and cardiovascular health relies on good hydration.
Your skin benefits from water intake, too! Its plumpness, resilience, and thickness are maintained by the water you drink. And your brain? You bet it loves every sip of water you drink. Water fortifies your joints, blood, tears, cerebral fluid, and much more.
Staying hydrated can help you feel less hungry while fasting, too. Water fills your stomach and will aid digestion during your eating window. Mineral water has an added bonus: its trace amounts of sodium, magnesium, calcium, and potassium help your body maintain the right solute concentration of its many unique fluids.
The Dangers Of Dehydration
Having trouble reaching that golden eight glasses a day standard? You're not alone. But when you embark on an intermittent fasting journey, hydration is Important with a capital I. Even mild dehydration can hinder cognitive function, including levels of concentration, alertness, and short-term memory.
Without sufficient fluid intake, your body will suffer. Low blood pressure, delirium, poor digestion, and headaches are only some of the serious side effects of dehydration. Making sure to drink regularly while fasting is crucial to keep your body running as smoothly as possible.
Is Flavored Water Okay?
Yes! But only if it's calorie- and sugar-free. Infusing water with lemon, cucumber, or berries is a great way to get extra flavor without compromising your fast. Beware of drinks that masquerade as "healthy" or contain artificial sweeteners; they may do more harm than good.
How Much Water Can You Drink During Intermittent Fasting?
It is important to continue drinking water regularly while fasting. Everyone's hydration needs differ depending on body weight, environment, physical activity, and overall lifestyle. Listen to your body's thirst cues, and don't be afraid to take an extra sip when you're not thirsty if it helps you stay on track.
A good goal is to drink 2-3 liters (~68-101 fluid ounces) of water per day while fasting. Enough to keep your body happy, but not enough to overload its delicate balance.
Key Takeaways: Can You Drink Water While Intermittent Fasting?
You can (and should!) drink water while intermittent fasting. Water will not break your fast. Your body and brain rely on water to function properly, so staying well-hydrated throughout your fast will help keep your mental and physical health in tip-top shape. Your body will definitely thank you.