Apple Cider Vinegar is among those foods that have steadily gained popularity for its many health and wellness benefits. It has many health benefits that we will cover later. Made from crushed and aged apples, ACV contains acetic acid as a result of the conversion of fruit sugar into alcohol. This acid gives the distinctive smell, appearance, and taste we know, and we associate with apple cider vinegar.
This type of vinegar is chock full of vitamins such as B1, B2, B6, niacin, Vitamin C, biotin, and even folic acid. There are trace minerals in apple cider vinegar, and these include magnesium, calcium, sodium, potassium, iron as well as phosphorous. Additionally, apple cider vinegar that contains 'Mother culture' is full of proteins and beneficial enzymes. This culture refers to the cobweb-like substance in this vinegar that makes it cloudy. Some products choose not to add the culture and remove it with pasteurization. This process leaves your vinegar clear, but with less nutritive value.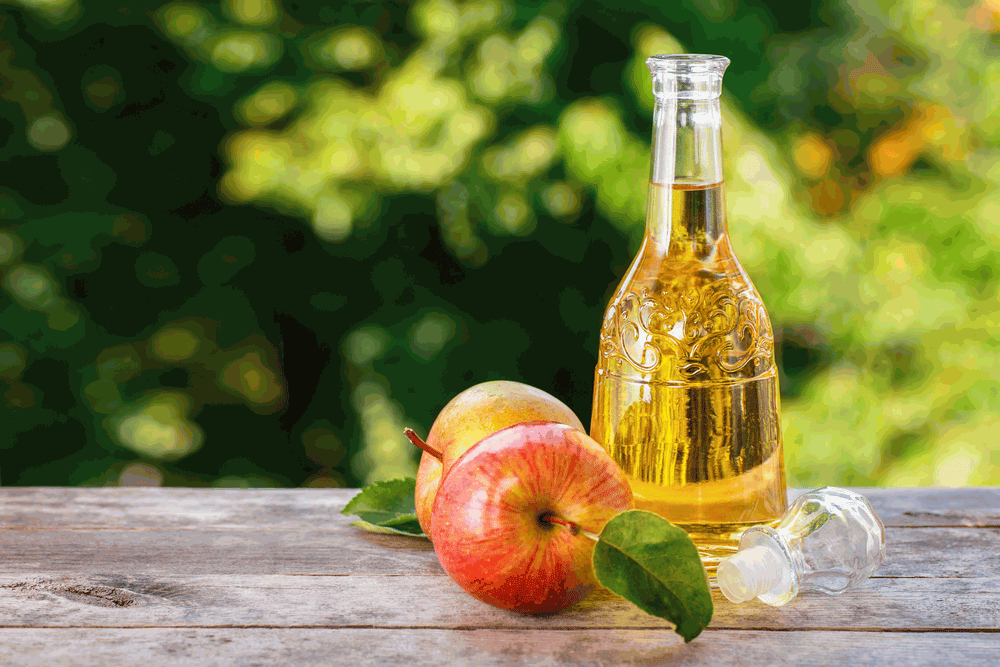 7 Best Apple Cider Vinegars & Reviews
1. Bragg Organic Raw Apple Cider Vinegar
Bragg Organic Raw Apple Cider Vinegar is probably the most well-known brand in the category, and indeed the best. Paul Bragg founded the manufacturing company in 1929, and his former daughter-in-law now runs it. Paul Bragg was considered one of the founders of the American Health Food Movement, and the product he created reflects these values.
Check Price
This product is made via slow fermentation, which leaves it with a high-quality Mother culture and all its accompanying benefits. As the name suggests, the product is raw, organic, and unfiltered. Unlike many other store-bought variants of apple cider vinegar, Bragg still retains an element of its apple taste. This fact makes it tastier than alternatives when mixed in water and lemon or honey.
This product is high in potassium. It is also certified organic, kosher, and Non-GMO. The manufacturers are also USDA certified and produce the ACV keeping these guidelines in mind.
Pros
Reputed Manufacturer
Raw and Unfiltered
Aged Using Wood
Certified Organic
Unpasteurized
Kosher
Non-GMO
Value For Money
Cons
Glass Bottle May Break Easily
Product color and taste inconsistent. It changes with each batch.
2. Viva Naturals Raw Organic Apple Cider Vinegar
Viva Naturals is a US-based wellness company that offers a wide range of organic foods, supplements, essential oils, and even beauty products. They are believers of living your best life with the right balance in terms of wellness. The ACV that they produce is among the best we've seen in recent times.
This product is naturally fermented in the slow process. Viva's apple cider vinegar is made predominantly from Californian hand-picked apples, and it contains the 'Mother culture.' The website claims that it can be used for salad dressings, cooking, detoxification, as a weight loss agent and even for household cleaning! The company is USDA certified, and the apple cider vinegar is gluten-free and certified Non-GMO. In our opinion, it is the right fit for those who want a good-quality apple cider vinegar for personal use.
Pros
Unfiltered and Unpasteurized
Made from Raw, Organic Apples
Naturally Slow Fermented
Free from Preservatives or Additives
Kosher
Non-GMO
Gluten-Free
Cons
Glass Bottle May Break Easily
3. Eden Foods Organic Apple Cider Vinegar
As far as appearances go, we particularly like Eden's product packaging and smart label. However, that's not all there is to it. The product is among our top contenders for the title of best organic apple cider vinegar in the market.
Check Price
The apples that make Eden Foods Organic ACV are slowly pressed and lightly filtered for the best results. The manufacturers don't use any 'press aids' or added enzymes during the formation stage, allowing it to naturally slow-ferment and mature by itself. This extra care makes for a great product. The cloudy vinegar is full of 'Mother culture,' and consequently, it is highly nutritious.
The company that manufactures this product is USDA certified, and the apple cider vinegar is gluten-free and certified Non-GMO. In our opinion, it is the right fit for those who want a good-quality macrobiotic ACV.
Pros
Unfiltered and Unpasteurized
Made from Hand-picked Organic Apples
Naturally Slow Fermented
Free from Preservatives or Additives
Non-GMO
Gluten-Free
Macrobiotic
Cons
Glass Bottle May Break Easily
4. Kevala Organic Raw Apple Cider Vinegar
This product from Kevala proves that a good-quality product needn't be expensive. Unlike many other variants of apple cider vinegar, the outcome from Kevala isn't very harsh or strong-smelling. It's still vinegar, so it has a pungent smell. But when compared with the others, it registers as light. The ACV from Kevala comes in three sizes – 35 oz., 64oz., and 1-gallon. It is also very reasonably priced for what it offers.
Check Price
Kevala makes a wide variety of products, including delicious spreads, oils, and even raw honey. They only produce 100% natural products and don't add any preservatives or chemicals. This company is independent, certified organic, and non-GMO. While they don't make or source all their products in the US, the bottling process is FDA-compliant.
Although Kevala's ACV is raw and allegedly unfiltered, some customers claim that they got a very clear product, as opposed to being cloudy. This lack of cloudiness may indicate a low level of 'Mother culture.'
​Pros
Great Tate
Strong and Effective Product
Reasonably priced
Variety in Sizes
Certified Organic and non-GMO
FDA-complaint Bottling
​Cons
Some customers received a product that was decanted more than necessary
5. Trader Joe's Organic Pasteurized Unfiltered Apple Cider Vinegar
Trader Joe's Apple Cider Vinegar is unpasteurized and comes in a glass bottle to delay expiration. Although it has a sharp taste and strong odor, it works wonders for those who need a pasteurized option. Pregnant and lactating women, mainly, will find this product perfect for their needs.
Check Price
Since this product is unfiltered, it is expected to have some residue. Most customers have found brownish-residue at the bottle's bottom, and while it may not look pleasant, it is no cause for concern. This product is fully organic and made from ripe, sweet apples for an added punch. Additionally, the pasteurization makes for a product with added shelf life.
Pros
Certified Organic
Lasts Longer Due to Pasteurization
Unfiltered
Strong and Effective Product
Can be used by Pregnant or Lactating Women
Cons
Lacks Probiotic Bacteria
Average Value For Money
6. Dynamic Health Apple Cider Vinegar
Compared to other brands of Apple Cider Vinegar in the market; this product by Dynamic Health is relatively larger. The ACV is made with 100% organic ingredients and is certified non-GMO. If you are looking for an ACV brand that's easy on your pocket and also in bulk packaging size, this option may be your best bet.
Check Price
Apart from the fact that it is made with non-GMO and organic ingredients, this product also contains substantial amounts of 'Mother culture' in each pack. Unlike many other choices, this brand has a BPA-free plastic package. While the plastic packaging cuts down on the risk of an accident, it isn't the best for storage purposes. Additionally, it is terrible for the environment.
Dynamic Health Apple Cider Vinegar is among the least expensive products on our list, so it's the undoubted choice for those on a tight budget. It's large size also works well if you have a bulk requirement – hair washing or for your pets.
Pros
Certified organic
BPA-free container
Large Size Packaging
Requires no refrigeration
Mixing instructions Included
Cons
Plastic bottles aren't Environment-friendly
Not suitable for those who want a smaller size product
7. Vitacost Apple Cider Vinegar
Vitacost began as a catalog for mail-order vitamins in 1994, and now they have become a leading health and wellness brand. Their product offering includes everything from dietary supplements and fitness products, to beauty-care and even pet care products.
Check Price
The apple cider vinegar product from Vitacost is made using high-quality, organic apples. It is formulated in such a way that it is perfect for vegetarians and vegans. Unlike many of its competitors, Vitacost ACV is free from additives such as sugar, artificial flavoring substances, or food coloring dyes.
Like any good-quality ACV worth its weight, the apple cider vinegar from Vitacost contains robust 'Mother culture' for a probiotic push. Customers have had positive experiences using this ACV for digestive trouble and skin problems. Lastly, this product is kosher certified. To safeguard the product and its longevity, it is diluted to 5% acidity. This technique also ensures that foreign bacteria doesn't grow inside the package once opened.
Pros
Kosher certified
Vegetarians and Vegan-friendly
Free From Common Allergens
No Artificial Flavor or Color
Certified Organic
Reputed Manufacturer
Cons
Once opened, the product must be refrigerated
Glass bottle may break easily
The Benefits of Apple Cider Vinegar
Now that we have comprehensively ranked the seven best apple cider vinegar products in the market, it is time to take an in-depth look at its many benefits.
Aids in Weight Loss
Unless you've been living under a rock, you might have heard of all the wonderful things apple cider vinegar can do for your weight loss endeavors. As per this study, it was found that regular consumption can aid in weight loss among obese people. Acetic acid, which is the active ingredient in ACV, can be useful in burning fat, and also controlling your appetite. Other studies show that vinegar consumption can reduce the number of calories you consume and even reduces belly fat.
However, while apple cider vinegar will aid your weight loss efforts, it isn't a replacement for a smart diet and exercise regime. For best results, you may add a spoonful of ACV to warm water mixed with honey or lemon, and drink it immediately.
Controls Blood Sugar
If you have blood sugar troubles, it can cause a host of problems and much stress. This is why the fact that apple cider vinegar can control and regulate blood sugar levels makes it even more valuable. The acetic acid present in this substance can block enzymes that digest starch. In return, this minimizes the body's blood sugar response. This report found that vinegar may also aid in decreasing fluctuations in insulin or blood sugar levels after meals. Additionally, ACV may be useful in managing diabetes and other such blood sugar-related disorders.
Controls Dandruff Problems
The acetic acid in apple cider vinegar can alter the pH level of your scalp. While this is likely to irritate those with sensitive skin or scalp dryness, it is excellent to prevent dandruff. By acting on your scalp's pH, ACV can turn your scalp into a hostile environment for yeast that causes dandruff. For best results, dilute the ACV with water before spritzing it onto your scalp. Rinse thoroughly with lukewarm water within 20 minutes of application.
Kills Bacteria
The fact that vinegar is so sour makes it an excellent preservative. This is why you're likely to see vinegar added to recipes for fermented products. Vinegar also can kill pathogens and disinfect. Right from wound-cleaning to food preservation, to ridding pets of lice and even stopping acne, vinegar's bacteria-fighting properties make it an excellent antibacterial substance.
Lowers Cholesterol and Improves Heart Health
Heart disease is among the biggest killers across the world. Additionally, many biological risk factors increase the chances of heart problems. When you regularly consume apple cider vinegar, the biological risk factors may reduce, and consequently, even your risk of heart disease decreases. This study shows that ACV could lower cholesterol and might even reduce blood pressure. Additionally, ACV's ability to regulate blood sugar and improve insulin sensitivity can also aid in reducing the risk of heart disease.
Fights Body Odors
Since apple cider vinegar can influence the skin's pH, it could potentially fight conditions like excessive sweating, foot odor, athlete's foot, and general body odor. In most cases, the ACV is diluted and then applied with a cotton ball, baby wipe, or cotton rag. When you use this weak vinegar solution, you may notice a strong smell. However, once the solution dries, this smell should automatically go away. To prevent any damage when you're applying this antiperspirant solution, avoid wearing leather shoes or tops made of delicate materials like silk.
Aids Treatment of Heartburn and Indigestion
Apple cider vinegar's many benefits include its ability to work at reducing heartburn and acid reflux. This study found that ACV might be as effective as an antacid for treating heartburn. The fact of the matter is that a lack of stomach acid may trigger heartburn symptoms. So, when you consume apple cider vinegar, its acidic content aids your stomach. ACV could also help in indigestion relief by regulating appetite.
Best Ways To Consume Apple Cider Vinegar
By now, you've learned the best ACV products and even the best benefits of apple cider vinegar. Now, let's take a look at the best ways to consume this miracle liquid.
For problems like weight loss, indigestion, heartburn, or cholesterol reduction, it is best to consume lukewarm apple cider vinegar in the mornings or before meals. This ensures quicker absorption and a faster effect on your body. However, incorporating apple cider vinegar into salad dressings, mayonnaise or other dishes can work as well. Remer not to cook the vinegar as it kills its efficacy.
Additionally, for weight loss and many other problems, you'll find ACV capsules or drinks. These are usually filled with other additives and have a watered-down effect. For best results, you should take ACV with minimum possible modifications. However, don't try to swallow spoonfuls of vinegar. This could lead to irritation or severe pain in the throat, mouth, and esophagus.
If you choose to drink your ACV as a diluted beverage, you should add no more than two tablespoons at a time. When you begin, it is best to start small to avoid any harmful reactions or side effects.
The best time to drink ACV is usually in the morning as your stomach can easily absorb all the good stuff. With that being said, not everyone is a morning person, and not everyone can do this. In such cases, you can choose to have ACV half an hour before meals, flushed down with a large glass of water.
Final Thoughts
We hope that this in-depth coverage on the best apple cider vinegar brands in the market helps you make the right choice for your body and health. ACV has been used for thousands of years by various cultures to treat a host of problems. Its antibacterial properties, antifungal ability, and healing benefits have helped people across the ages.
With the right ACV brand for your ailment or needs, you can sooth symptoms, alleviate pain, and get rid of some problems. However, as we said, ACV is not a miracle cure to replace prescriptions or to be used in place of a healthy lifestyle. As is the case with everything in life, moderation is the key to deriving the most out of your apple cider vinegar.