If you are looking to increase your testosterone levels naturally, TestoFuel may be a viable T-booster for you. Backed by scientific research, this testosterone booster is effective for those who want to burn fat or gain muscle. Additionally, its active ingredient formulation makes sure that your body is supplied with many testosterone boosting ingredients for a holistic change. This potent supplement can aid in boosting testosterone availability in the body. However, its steep price tag and trace amounts of food dye are a significant disadvantage, especially for people who want something budget-friendly.
---
TestoFuel is among the best testosterone boosters in the current market. This revolutionary product has been crafted with exhaustive research and constant development to aid you in your muscle building, fat burning and testosterone boosting goals. The product is particularly preferred by bodybuilders and fitness freaks who want to gain muscle and definition. It contains potent ingredients in the right quantity to give you an all-inclusive effect.
In our opinion, TestoFuel is among the stronger T-boosters in the market. It can help improve libido, cognitive function and your sex drive apart from its other benefits. Not only does this T-booster improve testosterone availability in the body, but it also regulates DHT concentrations. These concentrations promote testosterone as well as growth hormone production in the body.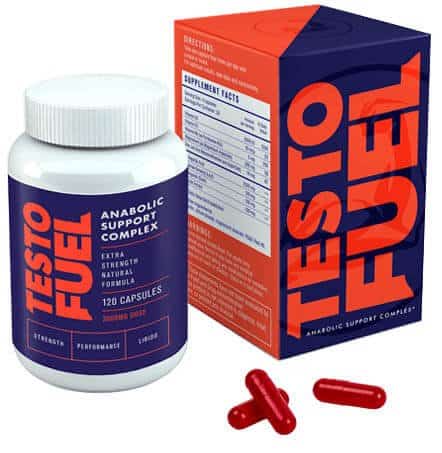 About TestoFuel's Creators
TestoFuel's creators at Roar Ambition LTD have been dedicated to bringing a T-booster to the market that can help anyone transform their body and achieve their goals. This England-based company claims that TestoFuel can be used just as effective by older men looking to boost their testosterone levels. We like the fact that this company makes use of safe and well-documented ingredients that have scientific backing. Moreover, there are many positive customer reviews attesting to the muscle-growing and fat-cutting properties of these products.
TestoFuel is manufactured in the UK as well as USA in certified GMP facilities, ensuring high-quality output. Professional athlete Robby Robinson is the brand ambassador for this T-booster. This two-time Mr America, two-time Mr World, and four-time Mr Universe has attested to this product's effectiveness on multiple occasions. While a celebrity endorsement helps, it is the potent ingredient mix that makes TestoFuel a clear winner in our opinion.
Testofuel Ingredients
TestoFuel doesn't skimp when it comes to packing its product with testosterone-boosting ingredients. If you've done a little research online to find out which ingredients are helpful when it comes to testosterone levels in the body, you'll be pleased to read TestoFul's label. Let's take a look at the ingredients in this T-booster.
D-Aspartic Acid
This amino acid promotes the release of testosterone in the body. As per studies, it could cause a 42% increase of serum testosterone in a mere 12 day period! Since this amino acid is directly responsible for the quantity and quality of sperm in the body, it has a direct link to male fertility. Additionally, it regulates the availability of testosterone in the body.
Zinc
Zinc is an integral ingredient that has been proven to aid men who have testosterone deficiencies to a great extent. This aphrodisiac has also been known to reverse hypogonadism that can affect testosterone production in the body. Zinc has a host of benefits to post-workout recovery and also relaxes muscles, shortens recovery time and even improves the overall quality of your sperm. It has also been linked to more intense ejaculations and orgasms in men.
Vitamin D3
If you have a Vitamin D3 deficiency, your estrogen levels are sure to be high. Too much estrogen can become a huge problem as it causes your testosterone levels to drop. This vitamin has been linked to increasing free testosterone, bioactive and total testosterone levels in the body. With sufficient supply of this vitamin, you will see that the body's natural ability to produce, store and regulate the hormone improves. Any T-booster without Vitamin D3 is simply not worth the investment.
Magnesium
No effective T-booster would be complete without adequate levels of magnesium in the mix. Magnesium is often overlooked, but it is instrumental in treating testosterone imbalance in the body. It effectively boosts testosterone levels of the body, and when combined with zinc, it can also promote restful sleep that is integral to reducing oxidative stress and improving muscle repair rates.
Fenugreek Extract
Fenugreek is one of those ingredients that you'll see aplenty in good-quality, effective T-boosters. In fact, it has become synonymous with testosterone boosting in men that people want to see it in a booster. Fenugreek has been linked to fat burning, and when paired with the right diet, it can effectively help you lose weight. By lowering the body's estrogen levels, it increases the total testosterone that is available and also promotes an increase in fat loss. Additionally, if you have trouble with energy levels, it can aid you in maintaining adequate energy throughout the day.
Red Ginseng Extract
Red Ginseng extract is also known to many as Panax. It has been linked to boosting your immunity and even aiding your body in protecting itself against cancer. As far as its role in a T-booster goes, it increases total testosterone availability in the body. It also aids in increasing general energy levels. For those seeking muscle definition and prominent gains, this ingredient is a complete blessing. Red Ginseng extract may also be useful in reducing the sensation of pain that accompanies heavy workouts.
Oyster Extract
Oyster extract is particularly useful in a T-booster as it has high zinc content. In fact, it is used extensively for treating conditions like psoriasis and dermatitis that arise out of a lack of zinc in the body. In severe deficiency cases, low availability of zinc may even halt testosterone production. With an ingredient like oyster extract, its ability to speed up zinc absorption helps in boosting the body's overall testosterone levels.
How Testofuel Works
TestoFuel's potency and reputation as a robust T-booster come directly as a result of its power-packed ingredient mix. As we mentioned above, the various ingredients that make up its formulation are all useful for boosting testosterone in the body in one way or another. The main impact of this product is as a result of high levels of D-Aspartic acid or DAA. This amino acid boosts the natural production of some key luteinizing hormones. These hormones are responsible for raising and maintaining testosterone in the body. This action has a direct impact on muscle mass, gain and definition. Additionally, it also speeds up the burn rate of fat reserves.
While TestoFuel's DAA levels are excellent, it also comes power packed with zinc, magnesium, oyster extract and even fenugreek. Each of these ingredients performs an important task related to increasing the total availability of free testosterone in the body. By doing so, it ensures that your body in nurtured thoroughly and not just pumped up with testosterone that will be eliminated in a few quick hours.
It is this lasting effect that has made many people loyalist of TestoFuel. When you start taing TestoFuel, it generates a change from within that will fix your body's ability to maintain energy throughout your workout. It also makes sure that you perform well physicaly and that you are able to gain muscle in the right way. This specific ability has ensured that the product suits professional athletes and bodybuilders. By aiding you body in creating testosterone naturally, this product is truly a powerhouse of benefits.
Pros of Testo Fuel
High Concentration of Testosterone Boosting Ingredients
As we have said before, no product can be better than the sum of the ingredients that make it up. In the case of TestoFuel, the product is brimming with promising testosterone-boosting ingredients. Right from fenugreek extract, D-Aspartic acid to Red Ginseng extract and even Vitamin D3 and zinc, Testo Fuel is one of our top picks for those who want to see a big shift in their health. The potent ingredient blend is perfectly suited to men and women who wish to boost T-levels in their bodies.
No Proprietary Blend
Some testosterone boosters have this cheeky habit of calling their ingredient mix as a 'proprietary blend' and then not fully disclosing what it contains. This is very inconvenient, especially if you are allergic to something. Moreover, shoddy manufacturers use this as a tactic to fill the product with fillers or additives. In the case of TestoFuel, we like that the manufacturer is fairly straightforward about what the product contains.
Improved Libido and Sexual Health
Many of TestoFuel's regular users have found that this product is excellent for improving their libido and also when it comes to enhancing their sex life. Ingredients such as D-Aspartic acid are excellent for improving sex drive and even sperm health, while zinc is an aphrodisiac with a host of benefits. When you start with this T-booster, you'll find that your zeal in the bedroom is much higher and that any age-related sex problems reduce.
Mental Alertness and Improved Cognitive Function
Thanks to the way it has been crafted, TestoFuel is amazing at improving your energy levels. So if you are looking for a product to keep you fuelled throughout the day, this is the right choice. People who used this product regularly also complemented its ability to make them less forgetful, mentally focused and much clearer in their thoughts.
100% USA Product and Fully Certified
Usually, many shoddy manufacturers will keep their manufacturing process in foreign countries to ensure a lower production cost and also as a way of evading the FDA. In the case of TestoFuel, the manufacturer is reputed and among the most respected in the industry. Their entire operation is based out of the US and parts of it are in the UK. Moreover, the facilities are certified GMP and also approved by the FDA. These steps go a long way in ensuring that you get a good product that is worth your money.
Versatility
While TestoFuel is among the more robust of T-boosters and marketed for gym rats and pros, it has something for everyone. First off, it can be used by ayone who has a severe testosterone deficiency or anyone who is looking for a boost to their testosterone levels. So, if you are a professional bodybuilder, this product will definitely help. Howver, if you are a man over the age of 50 looking to help your sexual health, the product is just as effective.
Potent Vitamin and Mineral Mix
With Vitamin D and Vitamin K in the mix, this product aids your body in its daily vitamin requirement. Additionally, zinc and magnesium have a host of benefits apart from just testosterone boosting, such as improved skin and hair as well as a better sleep cycle.
Cons of Testo Fuel
Limited Availability
One major disadvantage to an otherwise awesome product is its limited availability. If you want to buy TestoFuel, you will have to go to the official website to get this done. For people who are looking to land lucrative discounts or deals, this may be a big problem. However, the limited availability ensures that you don't get scammed into buying a fake.
Premium Pricing
We love the fact that TestoFuel comes packed with a host of ingredients that have a lasting impact of testosterone production in the body. With that being said, other products in the market have a similar blend but a less steep price tag. For people who are on a budget or who are looking for a low-cost T-booster, the price tag may be unjustified.
Contains Food Dye
We've all heard that dyes are not exactly the best for your body. At best, they will cause no harm to the body. They certainly have no benefits health-wise or even taste-wise. In the worst case scenario, they may cause allergic reactions or even cancer. TestoFuel contains FD&C Red Dye number 40 in its composition which we don't particularly appreciate.
Additional Resources
1. Testosterone Boosters: Best Picks 2. TestoMax: Guide 3. TestoGen: Assessment