Athletic Greens launched in 2010 and is now used by thousands of nutrition experts, athletes, entrepreneurs, health enthusiasts and celebrities to boost superfood intake and promote good overall health.
Dubbed the ultimate daily greens powder, Athletic Greens contains 75 unique probiotics, superfoods, antioxidants, prebiotics, whole foods, vitamins, and minerals.
This 'all-in-one nutrition insurance' aims to boost energy levels, support a strong immune system, aid digestive health, and improve cognitive performance.
On top of this, Athletic Greens boosts digestive enzymes and liver function, which improves gut health, and aids overall nutrient absorption in the body.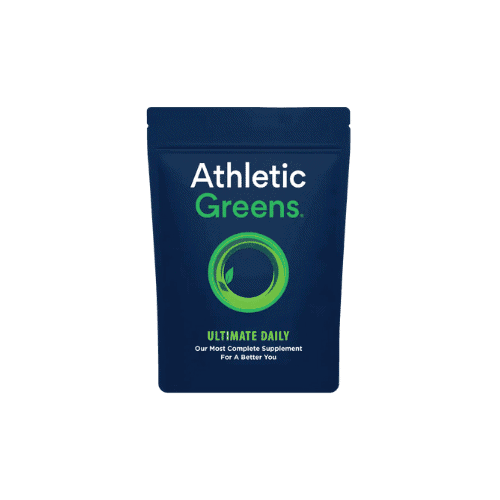 Check Price
We spend a lot of time here at BigBlueTest comparing the best health supplements on the market, so we thought it was about time that we put Athletic Greens to the test by completing our own Athletic Greens review.
Is this superfoods greens powder all it's stacked up to be?
What Are Athletic Greens?
Athletic Greens claim that their greens powder is the ultimate daily green superfood powder.
Made in New Zealand and launched in 2010, Athletic Greens is an easily digested dietary supplement that contains 75 different health-boosting superfood ingredients.
Including well sought after superfoods like spirulina, chlorella, matcha green tea, reishi mushroom, and beet root extract, our Athletic Greens review found that this green superfood drink is an excellent source of some of the best superfoods on the planet.
While Athletic Greens was originally designed for athletes, Athletic Greens is now taken as a daily supplement by thousands of people around the world – from entrepreneurs like Tim Ferriss, through to athletes like Emily Day.
Athletic Greens fits into any healthy lifestyle, and is both vegan-friendly, and suitable for paleo and keto diets. What's more, Athletic Greens has been certified for sport by NSF, and is a partner of USA Cycling – giving it extra kudos in the athletics community.
But while it's easy to make big claims, as always the proof is in the pudding. So let's start our Athletic Greens review by examining the Athletic Greens ingredient list, to see what's really under the hood.
Athletic Greens Ingredients
Athletic Greens makes bold claims about the health benefits associated with their nutrient-dense nutritional supplement.
So let's begin by taking a look at the baseline nutritional content found in this green superfood powder.
Athletic Greens Nutrition Content
There is a 30-day supply of Athletic Greens in each supplement pouch, and it is recommended that you take 1x 30g scoop of Athletic Greens every day.
Each 30g scoop contains the following calories and macros:
50 calories
6g of carbohydrates
2g of protein
0g of fat
If you are looking for a low calorie greens powder, then Athletic Greens certainly fits that criteria, it is also low in carbs, protein and fats, focusing instead on a rich profile of probiotics, antioxidants, vitamins and minerals.
Athletic Greens Stand-Out Ingredients
In each scoop of Athletic Greens, there are three different ingredient blends that deliver a range of antioxidants, prebiotics, vitamins, and minerals.
Alkaline, Nutrient-Dense Raw Superfood Complex
There are 7,388mg of nutrient-dense raw superfoods found in Athletic Greens.
This includes important superfoods and prebiotics like of spirulina, wheatgrass, chlorella, organic barley, beet root extract, carrot, and green tea.
Nutrient-Dense Natural Extracts, Herbs & Antioxidants
There are 2,738mg of natural extracts, herbs and antioxidants combined into a secondary nutrient-dense complex.
This includes rhodiola rosea extract, milk thistle seed, hawthorn berry extract, and rosemary leaf extract.
Digestive Enzyme & Super Mushroom Complex
Finally, Athletic Greens contains 154mg digestive enzymes and super mushrooms.
This includes reishi mushrooms, shiitake mushroom extract, astragalus root powder extract, burdock root powder, and bromelain.
Athletic Greens also contains 38mg of dairy-free CFU probiotics.
But what does this all mean?
Ultimately, Athletic Greens contains varying doses of important superfoods, digestive enzymes, probiotics, vitamins, and minerals.
While it's difficult to say exactly how each dose will benefit your overall health, we can see that by taking Athletic Greens you feed your body with the following contributions towards your recommended daily doses:
Vitamin A – 62%
Vitamin C – 700%
Vitamin E – 334%
Thiamin (Vitamin B1) – 200%
Riboflavin (Vitamin B2) – 118%
Niacin – 100%
Vitamin B6 – 150%
Folate – 100%
Vitamin B12 – 367%
Biotin (Vitamin B7) – 110%
Zinc – 100%
Calcium – 12%
Magnesium – 7%
Manganese – 20%
And there are more health benefits we haven't mentioned
This snapshot showing contributions towards your recommended daily doses of micronutrients shows that by taking Athletic Greens, you can actually replace your daily multivitamin.
Instead of taking a multivitamin supplement, just drink Athletic Greens every morning, and you will naturally boost your micronutrient supplementation and provide your body with tonnes of amazing health benefits.
Athletic Greens Health Benefits
Now that we know exactly what goes into Athletic Greens, let's take a look at how this greens powder will benefit your overall health, and potentially boost the way you feel.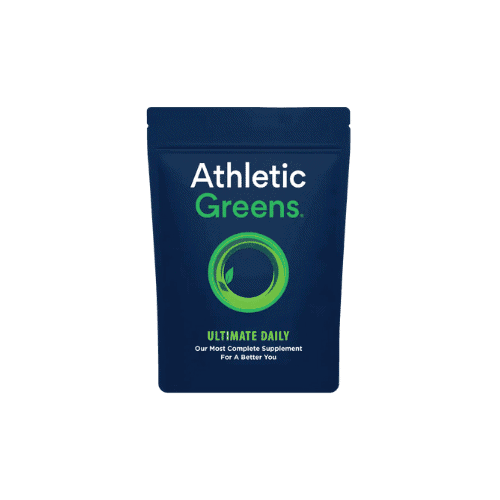 Check Price
Athletic Greens makes some bold claims about the health benefits it aims to promote:
Improved Energy Levels
Immune System Support
Enhanced Digestive Health
Boosts Recovery
Improves Cognitive Function
Unfortunately, there are a lack of scientific tests that specifically look at the health benefits of drinking superfood powders every day. With that said, there has been a wide variety of studies that show rich micronutrient intake via supplements has a very beneficial impact on health.
And these health benefits are associates with three broad areas.
Antioxidants
Our Athletic Greens review shows that there is a high antioxidant content in Athletic Greens, in fact one scoop provides well above your minimum recommended daily intake of key antioxidants like Vitamin C and Vitamin E.
Antioxidants help fight free radicals in the body, which are compounds associated with cell damage – often associated with diseases like cancer, heart disease, and diabetes.
The antioxidant content in Athletic Greens is derived from the nutrient-dense superfood complex, which contains greens like chlorella, spirulina, wheat grass, and barley.
Within the body, free radicles play an important role in fighting infections and boosting immune health, but importantly they are counterbalanced by antioxidants.
If free radicles outweigh antioxidants, you risk pushing your body into a state called oxidative stress. Prolongued oxidative stress can lead to cell death.
Antioxidants also help to detox the body from harmful environmental stresses like pollution, alcohol, toxins, and viral infections.
Probiotics & Digestive Enzymes
Like antioxidants, Athletic Greens also contain probiotic bacteria, prebiotic fiber, and digestive enzymes. All of which are important in protecting and sustaining a healthy immune system and wider digestive health.
The inclusion of burdock root, inulin, and artichoke leaf all have immunity boosting benefits, and digestive enzymes like bromelain help to improve nutrient absorption, which helps overall health.
Comparing Athletic Greens to other green superfood powders, it's clear to see that the wide range of probiotics and digestive enzymes help Athletic Greens stand apart as an excellent health supplement.
Adaptogens
Alongside antioxidants and probiotics, Athletic Greens also contain adaptogens like rhodiola rosea, ashwagandha, and a super mushroom complex containing reishi mushrooms.
Adaptogens are non-toxic plants that help the body resist and fight physical, chemical and biological stress. This includes stress associated with tough workouts, environmental stress, and fight-or-flight responses.
Things To Consider
While it's difficult to deny the wide ranging ingredients and associated health benefits, it's difficult to know exactly what dose of each superfood is contained in Athletic Greens.
For example, some health experts believe that adaptogens like astragalus extract are taken in a dosage over 250mg. However in Athletic Greens, there are only 125mg of super mushroom complex. That means it's unlikely that this greens powder will give you a complete daily supply of adaptogens.
Athletic Greens claims that the ingredient blends works in harmony with each other, leading to health benefits that are greater than the sum of their parts. But without taking this supplement on a continual basis, you won't know how it will impact your overall health. specifically.
One thing is for sure, Athletic Greens offers you a great way to get your day started with a healthy and nutritious greens supplement that can be supported with a healthy diet.
Athletic Greens Taste
One of the stand-out benefits of Athletic Greens is the great taste.
Many of the best green superfood powders contain sweeteners (like stevia) and preservatives to help improve the overall taste of the superfood supplement. But despite this, they taste bitter, and earthy leading to a feeling of sickness after drinking.
Thankfully, Athletic Greens has paid really close attention to its taste. When you drink Athletic Greens you can definitely taste the super greens, but you also taste vanilla, papaya, and pineapple (citrus bioflavonoids) which give Athletic Greens a naturally sweet, juice-like taste.
Likewise, Athletic Greens contains cherry powder, and ginger which help to give a spicy, zingy flavor that combats the bitter tasting greens like broccoli and wheat grass.
Having reviewed dozens of leading super greens, we'd confidently place Athletic Greens right up there as one of the best tasting green wellness supplements.
Athletic Greens Price
Athletic Greens Ultimate Daily Supplement provides the best value for money when purchased on the Athletic Greens subscription plan.
If you sign up for subscription, Athletic Greens costs roughly $2.50 per serving, and between $70-80 per bag. However, if you buy the bag in a one-off purchase, then Athletic Greens costs around $3 per day, which works back to $90-100 per bag.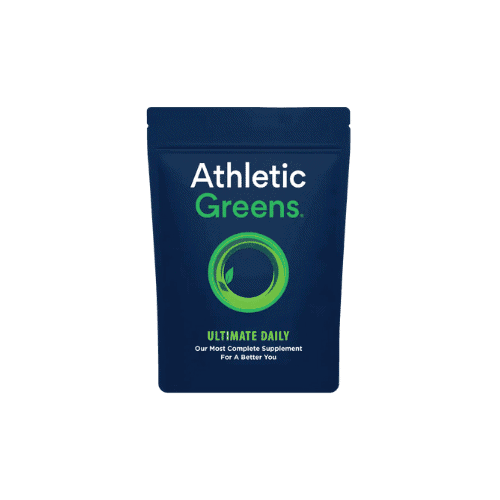 Check Price
Comparing Athletic Greens to other well being products, it sits at the slightly more expensive end of the market. And that's purely down to the fact that this nutritional insurance is packed full of so many healthy vitamins, minerals, superfoods, and digestive enzymes.
Other greens powders can be picked up for around $0.50 per serving, but they have a much smaller range of ingredients, providing less than 1/3 of the probiotics found in Athletic Greens.
Our advice when starting with Athletic Greens is to take advantage of the subscription offering, which offers you a sizeable discount. And if you don't like the product after trying it for a week or so, take advantage of the Athletic Greens money back guarantee.
The money back guarantee gives you peace of mind when purchasing, and means you can get your money back regardless of whether you subscribe, or make a one-off purchase.
Who Should Take Athletic Greens?
Athletic Greens can be taken by anyone looking to support their bodies, and boost overall health.
Athletic Greens is taken by top entrepreneurs like Tim Ferriss, as well as leading athletes, and health pro's like Emily Day (pro volley ball player), Alex Silver-Fagan (Nike Master Trainer), and Dan Churchill (Under Armour Head Chef).
Athletic Greens supports the digestive system, boosts energy levels, improves immunity, and boosts post-workout recovery.
The mix of proprietary blends work together to provide a high dosage shot of vitamins, minerals, digestive enzymes, antioxidants, adaptogens, and probiotics that help the body to function.
Designed to taste great, nutritional support first thing in the morning, Athletic Greens can be added to a health diet by simply mixing two teaspoons to water or your protein shake.
This makes it a really versatile health supplement that can be taken by anybody. It is also dairy-free, soy-free, gluten-free, non-GMO, and suitable for those following the keto diet.
Athletic Green Review Bottom Line
Overall, our Athletic Greens review found that Athletic Greens offer a super comprehensive greens powder that truly is market-leading.
Athletic Greens contains over 75 superfood ingredients, which make it naturally high in key antioxidants, adaptogens, probiotics, digestive enzymes, vitamins and minerals.
That means if you are looking for a brilliant all-round nutritional supplement that supports overall health, Athletic Greens ticks all the right boxes.
We'd never recommend replacing all of your fruit and vegetable intake with Athletic Greens, but as a standalone supplement, it can ensure that increase your daily dosage and supply the body with more of what it needs to properly function.
Athletic Greens also tastes great, and is affordable priced at just $2.50 per scoop. Having reviewed a lot of greens powders, our Athletic Greens review has led to us placing Athletic Greens at the top of our best greens powders list.