Mind Lab Pro is a leading nootropic supplement that aims to unlock the ultimate potential of your brain.
Unlike some other nootropic supplements, Mind Lab Pro aims to improve all-round brain health by enhancing six key pathways in your brain, including;
Brain energy
Brain chemicals
Blood flow
Brainwaves
Neuroprotection
Neuroregeneration
In doing so, Mind Lab Pro aims to help develop better memory, performance, mindset, and brain structure so that you consistently perform at a higher level throughout the day.
Our Mind Lab Pro review will walk you through some of the key facts that you need to know about Mind Lab Pro before you buy.
We also cover the main nootropic ingredients contained in Mind Lab Pro (like citicoline, phosphatidylserine, and rhodiola rosea), as well as the main health benefits and side effects.
Check Price
What is Mind Lab Pro?
Mind Lab Pro is a nootropic supplement developed by Opti-Nutra, also known as a 'smart drug'.
The main aim of Mind Lab Pro is to provide your brain with a comprehensive dietary supplement that enhances all-round brain health so that your brain performs at it's peak.
Mind Lab Pro helps the brain achieve this by combining a unique blend of eleven different natural nootropic ingredients. Each plays a key role in developing effective brain function by proving the brain with the amino acids, antioxidants, and vitamins it needs to perform.
The ultimate aim of Mind Lab Pro is to develop cognitive function across these four main areas of the brain:
Memory – this means enhancing your brains ability to encode messages, store information, recall names, dates, events and places, and learn
Mental Performance – this means speeding up your brains ability to process complex tasks. Leading to better verbal and mental focus and performance
Mindset – Mind Lab Pro helps to create a balanced and calm mindset so that you perform at a heightened level. It is designed to make you feel more creative, motivated, and relaxed
Cognition Structure – finally, Mind Lab Pro aims to fight signs of ageing in the brain, repair injury, and fight brain degeneration, and cognitive decline
Mind Lab Pro is able to achieve this by combining clinical doses of natural nootropic ingredients like Cognizin (citicoline), phosphatidylserine, bacopa monnieri, vitamin B6, and other natural nootropics.
We will talk more about each Mind Lab Pro ingredient later in this Mind Lab Pro review. However it is important to note that Mind Lab Pro contains zero colors, preservatives, or additives.
Mind Lab Pro is made from natural high-quality ingredients, and is non-GMO, FDA-approved, gluten-free, and allergen-free. It is suitable for vegans, and those following a keto or paleo diet.
In a nutshell, Mind Lab Pro is the premium over-the-counter universal nootropic supplement for men and women. We'd highly recommend this supplement for anyone looking to elevate brain health.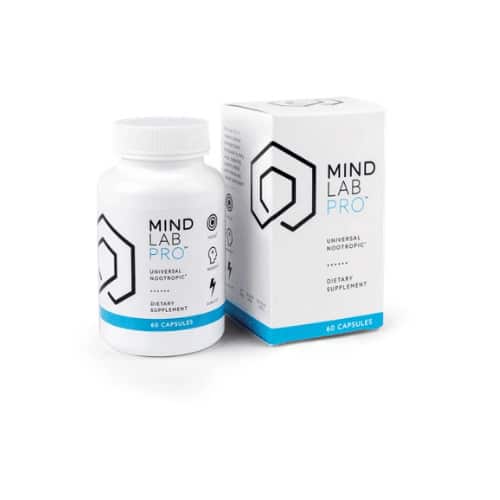 Check Price
Mind Lab Pro Ingredients
To really understand the value of Mind Lab Pro, it's important to analyze the various ingredients that are included in this natural nootropic.
Each plays an important role in helping to elevate cognitive performance, either by boosting neurotransmission, blood flow, brain energy, circulation, protection, or brain cell regeneration.
Let's take a closer look.
Cognizin / Citicoline (250mg)
One of the main ingredients found in Mind Lab Pro is Cognizin.
Cognizin is Mind Lab Pro's patented form of citicoline. Citicoline has been shown to create brain energy, and enhance mental performance, and recall in human clinical trials.
What is Citicoline?
Citicoline helps to create energy in the brain, alongside developing enhanced neural electrical impulses that power our thought processes.
Citicoline also increases phosphatidylcholine production. Phosphatidylcholine is the major phospholipid found in brain cells, and during clinical trials it has shown to boost memory, and increase the rates of the neurotransmitter choline (1).
Nootropic Benefits
Citicoline helps to energize the brain, and enhance mental performance. It has also ben shown to help regulate mood, leading to better focus, concentration, and creativity.
Phosphatidylserine (100mg)
Another ingredient found in Mind Lab Pro is Phosphatidylserine.
Research has shown that as we age, natural levels of phosphatidylserine decline.
What is Phosphatidylserine?
Phosphatidylserine (sharp PS) is a phospholipid compound that makes up a large percentage of the bodies brain fat's. Brain fat's like phosphatidylserine play a key role in maintaining fluidity in the brain, helping neurotransmitters like acetylcholine, serotonin, and dopamine thrive (2).
Nootropic Benefits
Phosphatidylserine supports brain cell energy, and has also been shown to increase nerve growth factor (NGF) which helps to support brain cell creation and repair. Another important benefit of phosphatidylserine is its ability to clear toxins from brain cells.
Phosphatidylserine has been shown to improve memory, create a sharper mind, and combat cognitive decline.
Bacopa Monnieri (150mg)
Bacopa is a perennial herb that has been shown to improve recall and enhance learning capability.
Bacopa Monnieri helps increase active bacosides (antioxidants) in the brain that help to protect the brain against free radicals. In addition, Bacopa helps to increase neurotransmitter levels, as well as serotonin, GABA, and acetylcholine (3).
Nootropic Benefits
The main brain boosting benefits of Bacopa are tied to increased focus in thinking and learning. Bacopa supplementation helps to improve mood, and create a clear mindset for increase cognitive performance and productivity.
Organic Lion's Mane Mushroom (500mg)
Another leading nootropic ingredient found in Mind Lab Pro is Orangic Lion's Mane Mushroom.
This unique mushroom helps to support brain health as it increases levels of hericenones and erinacines in the brain. Hericenones and erinacines are NGF's which supports neural regeneration and brain plasticity (4).
Nootropic Benefits
Lion's Mane Mushroom helps to improve brain storage for increased learning capacity. In addition, research studies have shown that Lion's Mane Mushroom improves cognitive performance by promoting healthy brain cell replication and regeneration.
Maritime Pine Bark Extract (75mg)
Maritime Pine Bark Extract is another unique ingredient found in Mind Lab Pro.
This unique ingredient is derived from Maritime Pine bark, as it contains a potent mix of proanthocyanidin antioxidants which help to cleanse the brain of toxic free radicals.
Proanthocyanidin antioxidants have also been shown to promote the release of nitric oxide. Nitric Oxide plays a vital role in relaxing blood vessels and promoting blood flow to the brain and body (5).
Nootropic Benefits
Maritime Pine Bark Extract has been shown to boost short-term mental energy, learning capacity, attention span and focus. In the longer term, people who supplement with Maritime Pine Bark Extract have been shown to maintain better memory and brain health in later life.
L-Tyrosine (175mg)
L-Tyrosine is an amino acid that stimulates the release dopamine, epinephrine, norepinephrine.
Under stressful situations, these important neurotransmitters have been shown to reduce, leading to unstructured thinking.
Nootropic Benefits
L-Tyrosine (n-acetyl-l-tyrosine) helps the brain perform under stress. As the brain releases neurotransmitters like dopamine, the brain and body is able to resist feeling of mental fatigue, tiredness, and stress. This improves your ability to multitask, and complete complex tasks (6).
L-Theanine (100mg)
L-Theanine is another amino acid found in a wide range of leading nootropic supplements.
L-Theanine also assists the brain in producing serotonin, GABA and dopamine. These important neurotransmitters help to regulate mood, increase feelings of pleasure, and importantly, protect neurons from damage.
It is also used to treat brain conditions like dementia and Alzheimers.
Nootropic Benefits
L-Theanine helps maintain a calm mind, while creating a sharpening effect on the mind. This brain stimulating process is key in developing creative problem solving skills, optimum learning, and the ability to onboard new information (7).
Rhodiola Rosea (50mg)
Rhodiola Rosea is a herb and popular adaptogen that helps to sustain crticial neurotransmitters. It does so by supporting neurotransmission across the blood-brain barrier.
On top of this, Rhodiola Rosea has been shown to fight increased cortisol levels in the body which create anxiety and stress.
Nootropic Benefits
Rhodiola Rosea is a vital nootropic ingredient as it helps the brain and body fight and deal with stress. Stress is one of the most crippling factors to effective cognitive performance, and has a damaging role on a wide range or cognitive functions (8).
Rhodiola Rosea also supports brain energy, and assist in increasing learning capacity, attention span, mood, and ability to focus.
B-Vitamins
Mind Lab Pro also contains a range of important B-Vitamins.
This includes 2.5mg of Vitamin B6, 100mcg of Vitamin B9, and 7.5mcg of Vitamin B12. B-Vitamins play an important role in promoting brain chemical synthesis, as well as promoting blood flow to the brain.
Vitamin B6, Vitamin B9, and Vitamin B12 have all been shown in clinical trials to promote mental energy, long-lasting brain health, improved memory, and better balance.
Mind Lab Pro Benefits
Mind Lab Pro is the ultimate nootropic, as natural ingredients combine to promote a range of brain boosting benefits shortly after consumption.
Here are some of the ways that Mind Lab Pro will help you to optimize your mental performance.
Brain Chemistry – you will feel enhanced ability to recall information and store new information in your memory. Mind Lab Pro increases processing speed, and allows you to maintain focus and a sharp attention span for longer
Brain Energy – Mind Lab Pro combats brain fog and gets your thinking more clearly. One of the biggest killers of productivity is a lack of brain energy, Mind Lab Pro helps boost quick thinking and mental agility for sustained periods
Brain Regeneration – Mind Lab Pro boosts brain plasticity, helping to repair, maintain, and nourish brain cells
Brain Circulation – natural nootropic ingredients like Maritime Pine Bark Extract help to release nitric oxide which improves blood flow and circulation to the brain
Brain Protection – Mind Lab Pro contains rhodiola rosea and other adaptogens that help to cleanse the brain of toxins, and other unhealthy structures that degrade the mind over time
Brain Waves – alpha brain waves promote calm focus and improve the brain's ability to structure information succinctly
When we carried out our Mind Lab Pro review, we found that these brain boosting benefits helped us in a variety of different ways.
Improved Mental Focus
One of the best things about Mind Lab Pro is it increases brainpower and mental clarity.
Within 30-45 minutes of taking this nootropic stack, you start to feel a more intense level of mental performance. This means that you are more dialled into your tasks, and much more effective in getting things done.
Some of our team members went into a meeting on the morning of our Mind Lab Pro review. Each found that they were able to maintain better focus on the meeting agenda, and their attention span was dialled in all morning.
Increased Working Memory
As well as feeling more focused, all of us found that information, words, and references were on the tip of our tongue/mind after taking Mind Lab Pro. This helped us work faster and feel better equipped to deliver high-quality work.
Mind Lab Pro contains Cognizin (citicoline), phosphatidylserine, and bacopa monnieri. This blend of natural nootropics helps to boost memory and recall, increase reaction times and processing speed, as well as boosting all-round cognitive function.
We'd imagine students would get a huge amount of benefit from Mind Lab Pro, especially when cramming before exams.
Increased Creativity
Not only were we better able to maintain focus and recall information, but we were actually more creative as well.
Mind Lab Pro contains L-Theanine which helps you feel balanced, positive, and in control throughout the day.
While we are used to drinking coffee to boost energy and creativity, caffeine can lead to productivity crashes. Thankfully, Mind Lab Pro kept us more alert and relaxed for longer.
This meant we were more dialled, without feeling stressed or anxious. The output was increased creativity, new ideas, and the ability to think outside the box.
Boosted Mental Energy
We also felt full of energy throughout the day when supplementing with Mind Lab Pro.
Caffeine is a great stimulant that most of us rely on to get us going in the morning. But each of us decided to only take Mind Lab Pro on the day of our review. This meant no caffeine.
Instead of feeling tired, edgy, and fatigued, we all felt energized, and able to focus on our tasks for longer. The other great thing about Mind Lab Pro is that after it started to wear off, none of us felt any unwanted side effects like jitters or mood crashes.
Balanced, Positive Mood
Finally, we found that all of us had a great day when we carried out our Mind Lab Pro review.
While we all felt dialled in throughout the morning, none of us felt stressed or anxious throughout this period of increased mental focus.
After lunch, we all felt positive, balanced and in control without losing mental energy. This balance made for an all-round positive mood in the office.
Does Mind Lab Pro Work?
The simple answer is, yes.
While we can only speak from our experience, we found that Mind Lab Pro is an effective nootropic supplement that helped to increase focus across all of our team members.
Mind Lab Pro kicks in around 30-45 minutes after you take it, and it gives you a mental buzz that gets you into the zone for a sustained period.
We found that Mind Lab Pro creates enhanced mental performance for around 6 hours, before it began to wear off. Within this time, it helped to create brain energy leading to more focused work, output, and productivity.
And thankfully, none of our team suffered from any unwanted side effects. The other great thing we noticed is that while taking Mind Lab Pro, you feel a mix of focus, and flow throughout the day.
While Mind Lab Pro has not been subjected to any clinical trails (unlike ONNIT Alpha Brain), there are a range of scientific studies which show that supplementing with the natural nootropic ingredients do boost cognitive performance.
And after testing Mind Lab Pro, we agree that Mind Lab Pro sits firmly in this category.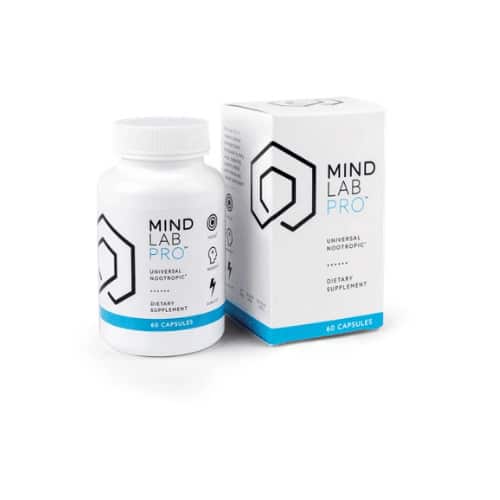 Check Price
Mind Lab Pro Side Effects
The great thing about natural nootropic supplements is that they have zero side effects.
Unlike caffeine and other stimulants that can cause mood and energy crashes, Mind Lab Pro delivers steady brain energy throughout the day, followed by a gentle tale off.
According to Opti-Nutra, the brand behind Mind Lab Pro, the brain enhancer is allergen free, gluten-free, non-GMO, GMP-Certified, and suitable for vegans. This makes it a very versatile smart drug that can be taken safely alongside a wide variety of diets.
With that said, too much of any dietary supplement can bring on unwanted side effects. Increasing your dosage without seeking medical advice first could increase your risk of these mild side effects.
Headches – while rare, if you do take too much Mind Lab Pro then you may become more susceptible to headaches. Start by taking a small dosage and easing yourself in
Nausea – likewise, you could get a slightly upset stomach and feelings of nausea. However, this is rare and not a common symptom
Disturbed sleep – the more common side effect of taking Mind Lab Pro is disturbed sleep. If you take Mind Lab Pro too late in the day, you could find it difficult to sleep. You may also be more prone to lucid dreams (something Joe Rogan talks about when he supplements with Alpha Brain)
Who Should Take Mind Lab Pro?
Mind Lab Pro is suitable for anyone looking to enhancer mental performance.
It's particularly well suited to students, busy professionals, creatives, or anyone looking to learn a new skill. We find supplementing with Mind Lab Pro is really effective whenever we are aiming to do one of the following.
Sustain 6-8 hours of dialled in focus
You're looking for a daily brain supplement that will lead to mental enhancement
You don't want to impact your sleep
You want to maintain a good mood under stress
You need to be in the zone for an exam, presentation or speech
Mind Lab Pro Bottom Line
Our overall verdict on Mind Lab Pro is that it is an awesome daily full-spectrum nootropic supplement for enhancing cognitive function and brain health.
While there are more extreme nootropics out there, Mind Lab Pro provides a responsible and effective dose of the best nootropics around. And, it will help to dial you in to complex tasks, and get you maxing our your mental potential for 6-8 hours.
We also love the fact that we suffered zero side effects throughout our Mind Lab Pro review, and felt positive and upbeat throughout the day.
Head over to the Mind Lab Pro website to get started (unfortunately you cannot buy on Amazon). And if you want to learn more about the best nootropic stacks, head over and check out our detailed guide.
References
Synoradzki K, Grieb P. Citicoline: A Superior Form of Choline?. Nutrients. 2019;11(7):1569. Published 2019 Jul 12. doi:10.3390/nu11071569
Kim HY, Huang BX, Spector AA. Phosphatidylserine in the brain: metabolism and function. Prog Lipid Res. 2014;56:1-18. doi:10.1016/j.plipres.2014.06.002
Shahid M, Subhan F, Ullah I, Ali G, Alam J, Shah R. Beneficial effects of Bacopa monnieri extract on opioid induced toxicity. Heliyon. 2016;2(2):e00068. Published 2016 Feb 15. doi:10.1016/j.heliyon.2016.e00068
Chaturvedi VK, Agarwal S, Gupta KK, Ramteke PW, Singh MP. Medicinal mushroom: boon for therapeutic applications. 3 Biotech. 2018;8(8):334. doi:10.1007/s13205-018-1358-0
Kurlbaum M, Mülek M, Högger P. Facilitated uptake of a bioactive metabolite of maritime pine bark extract (pycnogenol) into human erythrocytes. PLoS One. 2013;8(4):e63197. Published 2013 Apr 30. doi:10.1371/journal.pone.0063197
Jongkees BJ. Baseline-dependent effect of dopamine's precursor L-tyrosine on working memory gating but not updating. Cogn Affect Behav Neurosci. 2020;20(3):521-535. doi:10.3758/s13415-020-00783-8
Hidese S, Ogawa S, Ota M, et al. Effects of L-Theanine Administration on Stress-Related Symptoms and Cognitive Functions in Healthy Adults: A Randomized Controlled Trial. Nutrients. 2019;11(10):2362. Published 2019 Oct 3. doi:10.3390/nu11102362
Dimpfel W, Schombert L, Panossian AG. Assessing the Quality and Potential Efficacy of Commercial Extracts of Rhodiola rosea L. by Analyzing the Salidroside and Rosavin Content and the Electrophysiological Activity in Hippocampal Long-Term Potentiation, a Synaptic Model of Memory. Front Pharmacol. 2018;9:425. Published 2018 May 24. doi:10.3389/fphar.2018.00425