Losing weight does not always mean having a healthier body. However, the quest for thinness or a particular body shape makes people look for different ways to achieve that goal. One of them is to stop eating. But can you lose weight by not eating, and is it a healthy way to lose weight?
Stopping eating to lose weight for long periods of time can impact a person's health. This is also true if the practitioner does it without the aid of a doctor. However, it is possible that short periods of calorie restriction or fasting can aid in weight loss in a healthy way. Still, fasting isn't for everyone, but with proper monitoring and control, it is possible to lose weight by not eating.
What Happens To The Body When We Stop Eating?
During the first hours of starvation, the body triggers a series of metabolic effects in order to maintain organic functions (breathing, heart rate, blood pressure, etc.).
As the hours pass, the reactions may differ according to the health and body composition of the person who abstains from food. Thus, the response of an obese person is not the same as that of a lean person.
Changes That Occur In The First Hours
In the first hours of abstinence from food, the organism adapts by using the glucose reserves found in the liver and muscle. In this way, this substrate is oxidized inside the cells and then rapidly available energy is obtained.
This process is the one that predominates in the first 6 to 8 hours of abstinence from food and during nocturnal rest.
Changes That Occur After Eight Hours Of Abstinence
After the first hours of fasting, the liver, which is the organ that regulates blood glucose together with the pancreas, begins to use other non-glucose substrates to form glucose and obtain energy. This process is gluconeogenesis.
The main source the body uses in this instance for energy is fat. This process is accompanied by an increase in basal metabolism, i.e. the number of calories produced per day at rest.
Changes That Occur After 14 Hours Of Abstinence
During this period, the body cleanses. The cells self-regulate, eliminating wastes and toxins while cell death is programmed, leading to tissue renewal. This process can be beneficial, especially in people who are in a state of chronic inflammation.
This period is also characterized by ketosis. This is a metabolic state in which the body obtains energy from fats and releases intermediate substances from its metabolism called ketone bodies.
These molecules are responsible for the absence of appetite that is often felt with prolonged fasting. Excessive loss of water and electrolytes also occurs in this instance.
Changes That Occur After 20 Hours Of Abstinence
After 20 hours of abstinence from food, stem cells begin to reproduce. Although this process is favorable, the body also triggers other mechanisms in order to maintain vital functions. This includes obtaining energy through muscle proteins. This leads to a decrease in basal metabolism and lean muscle mass.
Advanced starvation also affects bodily functions such as heart rate (resulting in bradycardia) and respiratory rate.
Difference Between Fasting And Starvation
The main difference between these terms is the duration of abstinence from food and the generated symptoms.
Thus, fasting is abstinence from food for a period of time no longer than 48 hours, in which the body triggers multiple mechanisms to obtain energy.
Starvation is abstinence from food for more than 48 hours, which forces adaptation from the body and affects vital functions. This, of course, is not healthy.
Benefits Of Short-Term Fasting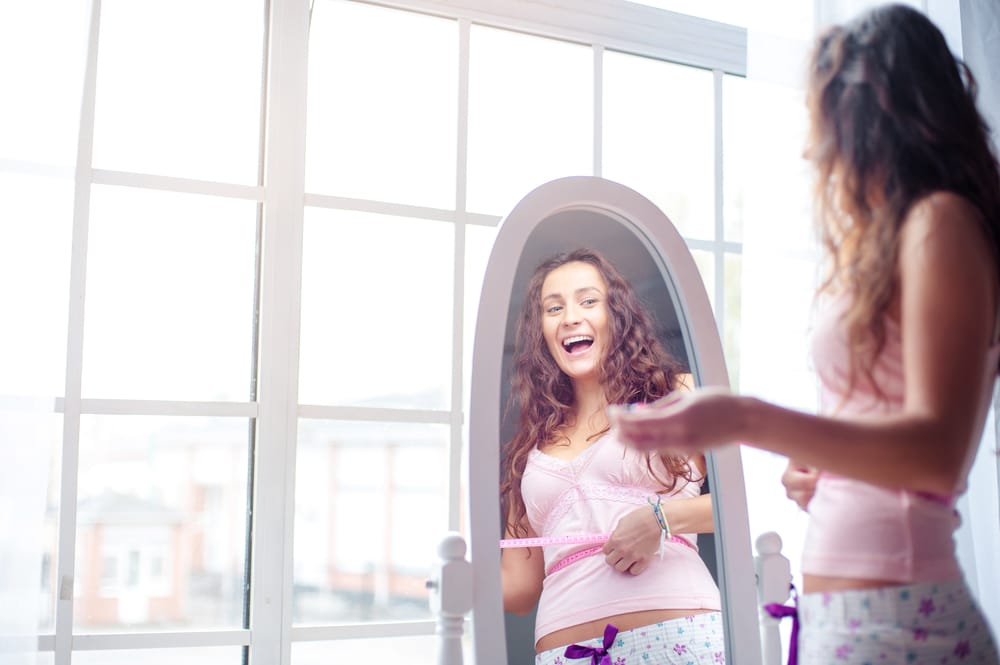 Fasting for non-extended periods of time has been associated with increased longevity. This is possibly due to the cellular turnover that occurs during times of abstinence from food and the resting of digestive functions.
Short periods of fasting may have other favorable effects on the body. This includes reduced insulin and glucose levels, decreased formation of free radicals associated with chronic inflammation, decreased anxiety, and reduced cravings.
With respect to weight loss, indeed food fasting for short periods of time has been associated with greater weight loss, although this strategy offers no different advantages than so-called low-calorie diets.
Weight loss from food abstinence is a process that initially leads to loss of fat mass. However, if continued for a period longer than 24 hours, there is a risk of loss of muscle mass.
Risks Of Long-Term Food Abstinence
Prolonged fasting increases the risk of malnutrition and certain deficiencies of essential nutrients.
Adequate intake of micro and macronutrients is achieved when a certain variety of foods from all food groups are consumed in a short period of time in order to reach the recommended dietary requirements.
Weight Loss Vs Fat Loss
Weight loss implies a reduction in total body mass, which is made up of muscle, water, viscera, bone and fat. Fat loss, on the other hand, only implies a reduction of this body component.
Losing weight does not mean losing fat. In the case of prolonged fasting, muscle mass may be lost, which is not healthy. That is why, in order to maintain an active metabolism, it is recommended that weight loss occurs from body fat.
How To Achieve Weight Loss At The Expense Of Fat Loss
To achieve healthy weight loss, it is advisable to reduce fat and maintain muscle mass.
The best strategy to achieve this type of weight loss and maintenance of the achieved weight is to perform short-term fasts, such as intermittent fasting.
This type of fasting, together with a balanced diet, can be effective in reducing weight and maintaining an active metabolism.
Conclusions: Can You Lose Weight By Not Eating?
A lack of food produces different alterations in an organism in order to preserve vital functions and to have a source of energy.
According to the particular situation of each person, fasting may or may not be conducive to weight loss.
In healthy people, abstinence from food for short periods of time together with a balanced diet can promote healthy weight loss and the maintenance of an active metabolism.
So, are you considering fasting for weight loss? If so, we recommend talking with your doctor first, but let us know how it goes in the comments below!