Milk contains two types of proteins, i.e., casein and whey. Whey can be separated from casein during the process of cheese-making. It contains all nine essential amino acids required for muscle growth and recovery. Besides, it is low in lactose content that can cause allergy to some people.
Whey protein is a blend of alpha-lactalbumin, beta-lactoglobulin, immunoglobulins, and bovine serum albumin, vital for muscle growth and maintenance. Resistance training, along with the daily intake of whey protein, can significantly improve protein synthesis in muscle.
It also aids the growth of lean muscle mass while decreasing the overall fat percentage from the body. Whey protein also helps in weight loss and even lowers cholesterol levels. Among the global manufacturers of health supplements, MyProtein is one of the most trusted.
A Brief Look at MyProtein
MyProtein was founded back in 2004. And, since then, it has held its position as the No.1 protein supplement manufacturer in Europe. Headquartered in Manchester, England, this company now operates in more than 70 countries. It has more than 2,500 value-for-money nutritional products.
From beginners to pro-athletes level, every level of athletes and fitness enthusiasts is a consumer of their nutritional products. Their protein powders, high-protein foods, vitamin & mineral supplement, mass gainer, and snack alternatives are made with high-quality ingredients.
Since its establishment, this company has supplied nutritional products at affordable prices, as they own manufacturing units. They effectively cut down third-party costs related to manufacturing and delivery. They also manufacture performance clothing for athletes and fitness enthusiasts.
MyProtein is a popular choice for environmentally conscious consumers because it has a 'zero waste to landfill' policy. All of the waste from their manufacturing and packaging units end up in recycling facilities or refuse-derived fuel (RDF) facilities.
This company was named as the 'Young Company of the Year' in 2007 at the prestigious Growing Business Awards. And, recently in 2018, it has also achieved the Queen's Award for Enterprise for being the most outstanding company in Europe.
All You Need to Know about MyProtein Whey Isolate
MyProtein produces one of the best whey protein isolates. This formula is ideal for muscle-building and maintenance. It has earned huge popularity as one of the most easily-digestible protein powders available in the market.
Their supplement has around 21 grams of protein in each serving of 25 grams (one heaping scoop). Each serving of MyProtein Whey Isolate will boost you with 4.5g of branch chain amino acid and 2g of Leucine that is essential for optimum muscle growth and faster recovery.
It delivers around 93-100 calories per serving, depending on the flavor. It has less than 0.6 grams of carbohydrates and 0.1 grams of fat per serving. Each serving of this whey isolate is actually 90% pure protein powder that supports lean muscle gain.
They mainly use natural dairy sugar or stevia extract in the isolate after removing almost all the fat contains. It has a very low amount of lactose sugars that are hard to digest. It is free of all additives and harmful chemicals.
To get the maximum benefit, mix a full scoop of this next-gen blend with 200-250 milk or almond milk, and take it around 30-60 minutes before your workout session. This will deliver the fuel for intense workouts and fast recovery. It will boost your performance if taken regularly.
By adding more muscle mass to your body, it will further help you to maintain the ideal muscle: fat ratio, without losing the properly toned physique. Besides, it is made in the state-of-the-art facility (Grade A rating from Labdoor) to maintain the highest quality standard.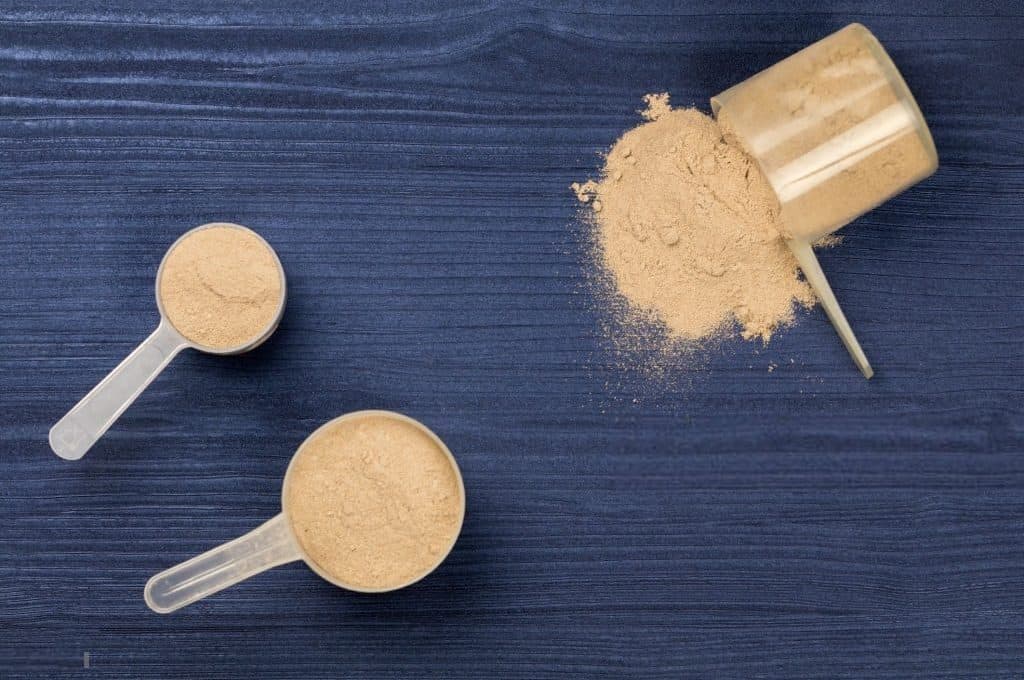 Best MyProtein Flavors to get the Perfect Taste
Whey protein now comes in many different flavors. But, most people feel quite confused about buying and trying the best one that will suit their taste pallet. Most consumers also tend to stick to just one flavor that they like the most after trying 2-3 flavors.
However, MyProtein has continuously added new flavors each year to their whey protein catalog. Right now, they have 57 flavors to choose from! But, choosing is not as easy as all the flavors seem equally tempting. So, here's our pick of the best MyProtein Flavors.
1. Chocolate Flavors
The whey protein range by Myprotein now has more than fourteen different flavors in their chocolate range. And, all of them are equally delicious. Out of these fourteen flavors, consumers the three flavors that consumers prefer the most are – chocolate smooth, chocolate caramel, and chocolate brownie.
Chocolate mint, a unique chocolate flavor, is another popular choice among MyProtein lovers. Other flavors of this range include – natural chocolate, white chocolate, stevia chocolate, chocolate banana, chocolate nut, chocolate peanut butter, chocolate orange, stevia chocolate mint, chocolate coconut, and coco cereal.
Chocolate smooth will be great for you if you don't like foamy beverages. However much you shake or stir it, the texture will not be frothy at all. It forms a smooth mixture with your favorite beverages. Chocolate brownie, on the other hand, has quite a thick texture, though it mixes well with milk and water, without any clump. It tastes more like an after-meal dessert than a high-protein shake.
Check Price
Many people love chocolate caramel because of the subtle caramel taste. And, it has excellent feedback among the customers. But, it is a bit sweeter than other chocolate flavors. You will feel the sweetness of caramel instantly, while the chocolaty aftertaste will hit a little later. If you want a twist in the regular chocolate flavor, try chocolate mint with a minty aftertaste that feels refreshing.
One of the least favorite MyProtein flavors is the chocolate nut. Although you will expect a hazelnut flavor, it actually has quite an unusual nutty taste. The same goes for Chocolate Peanut Butter, as it has quite a weird aftertaste. However, if you add a couple of scoops of peanut butter in your protein shake, then this can suit your taste buds.
2. Fruity Flavors
The fruit range was introduced much later in the MyProtein catalog, though it has become quite a sensation among the customers. Especially those who like their protein shakes with seasonal fruits, these fruity flavors of MyProtein are an absolute hit. All of them mix pretty well with both milk and water.
There are 8 fruit flavors of MyProtein available now. These include – blueberry, raspberry, banana, orange cream, strawberry cream, summer fruit, and vanilla & raspberry. Most of the flavors have their own fan base. But, the banana flavor is the most popular, and it is also the most purchased.
Check Price
The flavors that really stand out are strawberry cream and vanilla & raspberry. Strawberry cream has the sweetness of strawberry along with the thickness and aftertaste of cream. Vanilla & raspberry, on the other hand, has the usual high-quality vanilla taste with a subtle raspberry twist.
Blueberry flavor is also liked by many, especially among young customers. Besides, there are two more flavors that have quite a natural fruity flavor and aftertaste that are raspberry and orange cream. However, the biggest disappointments are pineapple and summer fruit, with an artificial taste. Besides, these two flavors seem way sweeter than other flavors in this range.
If you have a soft spot for coffee and like to throw a few scoops of protein powder in a glass of cappuccino, then this range will surely tantalize your taste buds. MyProtein now has four flavors in this coffee range. These are – latte, mocha, matcha, and coffee caramel.
The mocha and latte flavors are the most popular. Mocha mixes with both warm and cold milk, and with water. It is rich and creamy, with a hint of premium-quality coffee bean. But, the mixture is a bit denser than other variants of this range.
The latte blend mixes really well with warm milk and has an excellent aroma. Besides, it also has quite a soothing aftertaste. Latte has a strong flavor and is a bit sweeter. But if you like strong coffee flavor, you'll surely be going to like it.
MyProtein has four flavors in their natural flavors. And, quite surprisingly, those are the highest-selling flavors among their whole whey protein range. The natural flavors are – natural chocolate, natural banana, natural vanilla, and natural strawberry.
If you don't want to try or mix and match exotic and new flavors, then natural flavor series can be the ideal option for you. These natural flavors mix quite well with milk or water. Besides, you can also mix these with peanut butter powder, fine oats, yogurt, frozen fruits, or just ice water.
Natural vanilla can be the safest bet as it has quite the similar taste of a regular vanilla ice cream. The natural vanilla flavor is not very sweet and is really foamy. But if you like the same flavor with more sweetness, you can try the normal vanilla flavor.
Natural chocolate is quite similar in taste and aftertaste to the regular chocolate powder of MyProtein. Both of the flavors have cocoa powder as their main flavoring ingredients. However, natural chocolate blends a bit smoother than the regular chocolate flavor.
5. Snickerdoodle
Snickerdoodle is one of the flavors that was launched by Myprotein for the US market. And, it was definitely an instant hit among those who like to be a little adventurous with their health shakes. If you are bored of the regular flavors, this one is definitely worth a try.
This flavor my MyProtein gives you a drink that tastes more like a dessert. It tastes great with both milk and water. And, the drink tastes more like a cookie in a liquid form! And, if you want, you can also add to other food items, like brownies, for an actual dessert.
Thankfully, it is not too sweet. So, if you don't like a sugary drink, this is an appropriate choice for you. It will definitely help to break the monotony of the regular flavors. It also has about 3 grams of carbs in each scoop, which will not disrupt your low carb diet.
6. Canadian Maple
This is one of the unique flavors of MyProtein. While people were a little sceptical when the product was first launched, they have eventually taken really well to it. It has an authentic taste without any artificial aftertaste. And, it has received incredible user reviews.
If you have a sweet tooth, then this flavor is definitely for you. it is probably the sweetest of all the flavors of Myprotein. However, it is still quite low in sugar, with only 13% of carb content in the drink. So, you don't need to worry, as it will not throw you off your diet.
It can give you the original taste of maple syrup in your health shake. Plus, it has all the goodness of MyProtein powder. It mixes really well with your favorite beverages and doesn't clump at all. You can even add it to other beverages to give them a sweet but healthy twist.
7. Rocky Road
When you taste this flavor for the first time, you'll feel that it is simply the chocolate – just a little heavier than the regular one. But, when you get used to this taste after a couple of sips, you'll get the subtle marshmallow taste. It also gives you the same kind of aftertaste as the roasted marshmallow.
Basically, you can compare the taste with the regular Rocky Road dessert, though the taste is way subtler than the actual dessert. It has quite a hint of waffle cone flavor to it. So, besides shakes, it goes really well with protein pancakes. Besides, you can also use it to make protein pastries.
But if you want to try it as a protein shake only, you should mix it with cold almond milk to get the best taste. If you have already tasted and liked the usual chocolate or natural chocolate flavor of the MyProtein whey range, then this one is a must-try upgrade. Like most other flavors, this flavor too doesn't clump at all.
8. Salted Caramel
If you are looking for a flavor that tastes different from the traditional ones, then salted caramel can be the right choice for you. The first thing that you'll notice while tasting it is that this one tastes rather salty, and less sweet, though the saltiness doesn't overpower the caramel flavor.
As you may know, if you are a connoisseur of finer tastes, salt and caramel is a lovely combination. So, the subtle, salty taste of the MyProtein powder goes quite well with the smooth caramel flavor. You can just blend it with ice to get a rich caramel beverage that's not too sweet.
Add this powder to cold water or almond milk, or can also add it to any of your favorite shakes or smoothies to get the best out of this blend. It mixes perfectly and doesn't create any lumps. And, for those who like foamy texture, it can give you a dream experience.
9. Chocolate Caramel Pretzel
Chocolate Caramel Pretzel is definitely one of the best among the new flavors that MyProtein recently introduced to their ever-growing whey protein range. They exclusively launched the new line of new flavors to tempt their US-based customers.
And, like many of them, the Chocolate Caramel Pretzel flavor has gained the best customer reviews. This flavor tastes the best with cold milk. Besides, it mixes really well without leaving clumps, just like most of the other flavors of MyProtein whey isolate range.
One can only imagine how hard it might be to bring the taste of a pretzel to a health drink, but MyProtein has done it really well. You can taste the incredibly sweet-and-salty balance of a pretzel in this shake, with the delicious hint of chocolate.
10. Unflavored
There are many health enthusiasts who like the raw taste of whey powder and don't want either an artificial flavor or a natural taste in their protein shakes. And for them, the unflavored variant of MyProtein whey can be the ideal option.
One of the main advantages of the unflavored variant is that you can add this whey powder in any shake or smoothie, without suppressing the taste of the beverage. You can also mix it with milk or water with a dash of honey or peanut butter to make a great protein shake.
The unflavored variant of whey protein powder mixes really well with any of your favorite liquids. It is also smooth in texture and doesn't form any clump in smoothies. You can also use it to make protein pancakes or try it with frozen fruits, in whichever way you like.
How to Choose a Flavor
LabDoor recently ranked all the protein companies around the globe, and MyProtein Impact Whey Protein powders held the second place. Now that is definitely a great achievement! According to the company itself, it tastes the best with 150-250ml milk or water.
But, we have found that if you add more liquid to it, the flavor starts to fade significantly. You can choose fruity flavors if you like thin texture. And, if you love thicker smoothies, go for flavors like chocolate cream or Blueberry Cheesecake.
If you want a powder that mixes easily and has a smooth texture, then you should pick the chocolate smooth variant. Can't decide which one to buy? You can choose sample packs first and then decide which flavor you'll stick to.
Or, you can buy multiple flavors and mix things up for yourself. Just take one in the morning and another after the workout in the evening to try different variants. Let your mood decide for you. And, to avoid added sugar, go for the stevia flavors.
Conclusion
So, now you know about the best among the MyProtein flavors. With MyProtein, taking protein supplements does not have to be a boring affair anymore. You can take your pick from a wide variety of tastes. It's inevitable that you will look forward to your daily protein shake time!